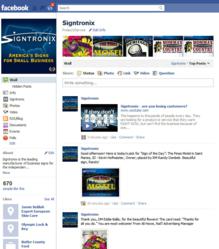 One customer pointed to a sign on our Facebook page and said 'That one! I want one just like it!' and ordered the sign right away.
Torrance, CA (PRWEB) May 17, 2011
Signtronix, the country's leading manufacturer of signs for small business, has seen a significant increase in business development and customer relations as a direct result of their Facebook and Twitter campaigns. Signtronix started their campaigns towards the end of 2010 and have seen tremendous results year to date.
"Many companies have been scratching their heads thinking about Facebook, Twitter and other social media tools available to them and wondering what they can possibly achieve from them," says Tom Johnson Jr., Director of Marketing at Signtronix. "Almost every company either has jumped on or wants to jump on the social media bandwagon, but they don't have any specific goals for their efforts. We set up our Facebook, Twitter and other social media sites with the goal of simply showing our potential customers the power and beauty of our sign products and allowing our customers a forum to talk about their experience with their new sign. In just the last 4 to 6 months we've received phenomenal customer feedback and hundreds of referrals just because people have forwarded our Facebook site to other business owner friends or family who need a new sign for their business."
Their social media campaigns have helped Signtronix both on and offline. Facebook has provided important in-field support as well. Johnson says, "I've had a good number of our sales representatives call me and tell me they sold signs specifically because business owners they spoke with loved the signs or messages shown on our Facebook page (http://www.facebook.com/signtronix). One customer immediately pointed to a sign on our Facebook page and said, 'That one! I want one just like it' and ordered the sign right away."
In addition to the direct impact on sales, the Signtronix Facebook and other social media campaigns have provided another benefit to the company; excellent word of mouth. "The positive feedback provided on our Facebook page and via Twitter has been incredible. We've had such great comments about our signs and also our sales and customer service representatives. I would like to thank everyone who has provided such valuable feedback to us. We take it all to heart as we continue to focus on developing high quality and powerful sign products and providing excellent customer service." says Johnson.
Johnson continues, "When friends of mine in other companies across the country ask me why I'm so enthusiastic about social media for Signtronix, I simply ask them 1) do they want to generate substantial new revenues? 2) do they want to obtain hundreds of referrals for potential and new customers? 3) do they want to improve their brand recognition of their company? 4) do they want to enhance their customer service strategies? and 5) do they want to enhance their hiring and career activities and gain valuable new employees? Of course they answer 'YES!' to all these questions. To which I simply answer, 'Then you too need to implement social media as we have. But don't just jump in without clear goals of what you want to accomplish with it for both your company and your customers.' It's been incredibly successful for us, even as a 50-year-old, traditional manufacturing company."
About Signtronix
Signtronix (http://www.signtronix.com) is the premiere sign manufacturer for small businesses across the United States. The company was founded in 1959 and has helped over half a million customers in its 50 year history. Signtronix offers many different sign products from outdoor electric signs, LED messages signs and indoor and window signs to help America's small businesses get the exposure they need to their passing public and potential customers. Signtronix is proud to be an ESOP (employee stock ownership plan) company which is owned and operated by its employees. Join Signtronix on Facebook at http://www.facebook.com/signtronix or join us on Twitter at http://www.twitter.com/signtronix.
To learn more about Signtronix please contact Tom Johnson Jr. at trj2(at)signtronix(dot)com.
Previous PRWeb Press Release - Signtronix Launch of Referral Rewards Program
Signtronix Sign Company Launches Revolutionary New Signs