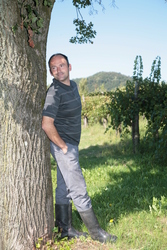 "Slovenian wines are underrepresented in the UK, so we leapt at the chance of teaming up with Naked Wines. We thought that Naked Wines' philosophy of supporting small, independent winemakers matches perfectly the stories of Slovenian family estates..."
(PRWeb UK) February 23, 2011
Online wine retailer Naked Wines, which supports independent winemakers from around the world, has hosted the UK's first crowd-powered Slovenian taste-off.
Supported by the Slovenian Embassy London, the event saw a group of up-and-coming Slovenian producers all looking for UK representation, head over to the UK to showcase their wines and vie for an order.
Each producer pitched their wines to a group of Naked Wines customers, who were drafted in to taste them and pick the winner.
Matjaz Lemut, owner of the Tilia Estate in the Vipava Valley, stole the show and now has four wines for sale through Naked Wines.
Gorazd Rencelj, Economic Counsellor at the Slovenian Embassy, said:
"Slovenian wines are underrepresented in the UK, so we leapt at the chance of teaming up with Naked Wines. We thought that Naked Wines' philosophy of supporting small, independent winemakers matches perfectly the stories of Slovenian family estates represented at the event. The evening in the residence of the Ambassador proved to be a great success and we hope that Matjaz Lemut's Tilia could soon be followed by other Slovenian winemakers."
Rowan Gormley, Founder of Naked Wines added:
"Our customers regularly suggest wines, regions and countries they want us to explore, and Slovenia kept cropping up. So they were eager to support the event and discover what the country had to offer."
To find out more about Matjaz and his winning wines, which include a Pinot Gris, a Sauvignon Blanc and a Pinot Noir, visit http://www.nakedwines.com/matjaz
Producers looking for UK representation and funding should visit http://www.nakedwines.com/suppliers
###