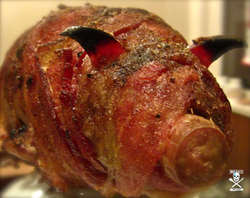 "Your guests will be talking about more than the game when you roll out an all pork, pig shaped Super Bowl appetizer." - Clint, SmokeInDaEye.com Pitmaster
Garden City, NY (PRWEB) February 2, 2011
As millions of Americans prepare for next Sunday's NFL showdown between the Packers and Steelers, Smoke In Da Eye (http://www.smokeindaeye.com) award winning competition barbecue and grilling team offers up some bigger, badder and bolder recipes sure to keep your guests praising your game day eats long after the final snap, including:
Images and additional recipes are available upon request.
"Bacon Cheddar Beer Bites"
This recipe combines all four major food groups (cheese, bacon, sausage and beer) into one tasty, bite sized appetizer. The result? Cheese stuffed, bacon wrapped, beer battered (and fried) sausage balls.
Ingredients
8 ounce block sharp cheddar
16 ounces breakfast or Italian sausage
1 pound of center cut bacon
2 cups all purpose flour
1 teaspoon salt
One 12 ounce beer
2 egg yolks
1/2 teaspoon baking powder
Heat oil for frying to 375 degrees in a deep sided pot or deep fryer. Mix beer, yolks, remaining 1 teaspoon of salt and baking powder in a bowl and slowly add 1 ½ cups flour until smooth and moderately thick.
Cut cheddar into 1 inch cubes. Cover each cube with uncooked sausage, rolling into individual balls. Wrap each ball with 1 slice bacon, roll in remaining flour, shaking off the excess. Dip each ball in beer batter and place in the oil. Working in batches, fry balls until crisp and golden brown, approximately 6 minutes. Remove, drain on paper towels and serve.
Dredge peppers in remaining flour, shaking off excess, then dip each pepper in batter. Gently place in the oil and fry until golden, approximately 4 minutes. Remove, drain on paper towels and serve.
"Deep Fried BBQ Ribs"
Anyone can heat up a cryovac package of subpar, store bought ribs, but image the look on guests' faces when you present a platter of deep fried, panko crusted ribs! The key to making these extra tasty is to smoke the ribs then frying them (aka smo-frying).
Ingredients
1 rack of cooled pork spare ribs, pre-smoked and lightly sauced
1 cup flour, seasoned with favorite BBQ dry rub
3 egg, beaten
1 1/2 cups Japanese bread crumbs
Preheat oil in a dutch oven or fryer to 350 degrees. Place flour, eggs and Panko in three separate bowls or, for easier cleanup, three gallon sized zip top bags.
Separate rack of ribs into individual ribs. Dredge ribs in flour, then egg then Panko. Working in small batches (2-3 ribs at a time depending on the size of your fryer), fry ribs until golden brown turning once halfway through. The ribs are precooked so you should only need to cook them for approximately 6 minutes. Remove from oil and allow to drain on paper towels. Stack the ribs on a platter and serve immediately with a side of your favorites barbecue sauce.
"Pulled Pork Lasagna"
The perfect one pan dish for a hungry crowd, this SmokeInDaEye original puts a barbecue twist on traditional lasagna by combining barbecue sauce, smoked cheese, pulled pork and dry rub.
One pound cooked pulled pork
2 cups grated smoked gouda
2 cups grated mozzarella
1 32 oz can plum tomatoes, crushed
1 bottle barbecue sauce
1 box lasagna noodles
2 cup ricotta
Dry rub
Mix tomato sauce and barbecue sauce, simmer over medium-low heat for approximately 45 minutes. Mix gouda and mozzarella cheeses and set aside. Prepare lasagna noodles according to directions. Preheat oven to 375 degrees.
In an oven proof baking dish, drizzle sauce to evenly coat the bottom. Add one layer of noodles, top with 1/3 of the pork, a 1/4 of cheese mixture, dollops of ricotta (approximately 2/3 cup), and sauce. Repeat with two more layers. Top final layer of noodles with an even coating of sauce, remainder of cheese and dry rub.
Cover lasagna with foil and place in the oven for approximately 30 minutes. Remove foil and bake and additional 10 minutes to brown the top. Rest, slice and enjoy!
About SmokeInDaEye.com
Founded in 2006, Smoke In Da Eye (http://www.smokeindaye.com) is an award winning competition barbecue and grilling team from Garden City, NY. In addition to countless awards, the team has also been featured in a variety of media outlets, can currently been seen in a "How Do You Iron Chef" spot on Food Network and teaches barbecue and grilling demonstrations. The team also manages a popular outdoor cooking blog, A BBQ Nation, located at http://www.abbqnation.com.
# # #