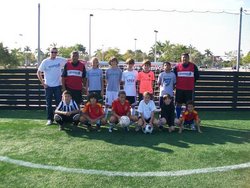 Nelson Valenzuela, National B License coach Director of Soccer said "I'm very excited about joining the academy, this is a program that is designed to be fun and innovative for the children in the area."
Miami, FL (PRWEB) February 2, 2011
The Soccer 5 Academy will offer kids in Miami a variety of ways to Get in the Game
First to launch will be a quality and affordable Recreational (Rec) program.
The Rec program will be available to kids from ages 3-15 and will consist of: Two 1 hour training sessions per week, Monday and Wednesday or Tuesday and Thursday from 6-7 or 7-8pm, as well as a game within the program on the weekends.
This week Soccer 5 will be holding an Open House- there will be TWO open house sessions at KENDALL SOCCER PARK (8011 SW 127th Avenue,33183) on February 2nd from 6-8pm & February 5th from 9-11am. To include your kid(s) RSVP now by calling 1 888 575 2976 or email academy@soccer5usa.com
The Soccer 5 Academy is also proud to announce the addition of youth coach Nelson Valenzuela, who's a National B License coach & will be joining as the Director of Soccer on a volunteer basis, to which he added "I'm very excited about joining the academy, this is a program that is designed to be fun and innovative for the children in the area. Being a Miami native, I've been involved with the youth soccer community in South Florida for many years, and can honestly say there is nothing like the experience we are setting out to provide!"
Following the Recreational program Soccer 5 will be hosting a Spring Camp during the Spring Break school vacation from March 14th to March 18th. For more details contact the Soccer 5 team on 1 888 575 2976
After this the company intend to launch an After School Club. A unique offering Soccer 5 will be working with local educational interns from college providing them invaluable field experience whilst children complete their homework. Soccer instruction will be provided thereafter.
Last year Soccer 5 USA entered in an agreement with Miami-Dade Parks and Recreation Department to design, build, and operate 5v5 Soccer facilities at Kendall Soccer Park – http://www.soccer5usa.com/miami . Soccer 5's ultimate goal is to encourage the local and national interest in Soccer in the US, which has been bolstered by the admirable performance of the US team at the 2010 FIFA World Cup.
Their premise is simple and has been reiterated in numerous articles that try to understand the lack of interest for the sport in the US; Americans find the game long and feel that there are too few points scored per match. Soccer 5's 5v5 matches seek to resolve both issues by making the field proportionately smaller, resulting in a shorter, more dynamic game with a higher score average.
About Soccer 5 USA:
The evolution of 5v5 soccer in the USA, a game for all ages and skill levels for all who play soccer, talk soccer, shop soccer. And soccer 5 mission is to see 5 v 5 soccer being played in every city by World Cup 2014, and doing all it can to support 'the game is in the US' World Cup future bid.
For further information on Soccer 5 USA or scheduling, contact Scott Georgeson, President, US Soccer 5 LLC, 8011 SW 127 Ave, Miami 33183 Tel: 1 888 575 2976
###