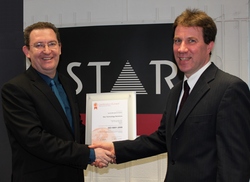 Translation is all about confidence in your ability to do business worldwide in different languages and culture. ISO 9001 Certification gives our clients the confidence in their translations to achieve this goal
(PRWEB) March 20, 2011
STAR Technology Solutions the translation agency is proud to announce that in February 2011, their Quality Management System was independently audited and awarded with the prestigious ISO 9001:2008 Certification.
With close to 10 years experience providing professional translation services the ISO standard is a further stamp of approval to the high quality services the company delivers to its global clients.
Recognised in more than 160 countries, the ISO 9001:2008 standard provides a tried and tested world class framework for taking a systematic approach to managing an organizations processes to deliver consistently high quality results.
Paul Quigley Director of STAR speaking on behalf of the company states,
"We are delighted to have such external recognition for our team. To achieve ISO 9001:2008 Certification a company must employ a Quality Management System (QMS) that delivers superior customer services and continuous improvements in skills and competency of all employees in the translation process. "
ISO 9001 places a strong emphasis on customer satisfaction, management responsibility, continual improvement and organizational performance.
Damian Scattergood Managing Director of STAR commented,
"Translation is all about confidence in your ability to do business worldwide in different languages and culture. ISO 9001 Certification gives our clients the confidence in their translations to achieve this goal."
About STAR Technology Solutions
STAR Technology Solutions is a translation agency based in Dublin Ireland. It delivers translation and document translation services to clients around the globe in over 40 languages. STAR helps its clients do more business internationally by providing the website translation, technical translation and document services they require to communicate worldwide.
STAR – Confidence in a Translated World.
###