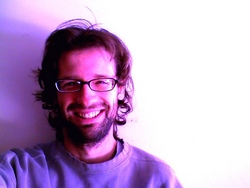 Grimes advocates for people to become less serious, and says the best way to do that is not by sitting down and breathing deeply. It is by acting - for all intents and purposes - a little crazy.
Boston, MA (PRWEB) March 10, 2011
The last decade has seen the merging of alternative medicine into mainstream medical culture. Today, yoga practitioners often have their health insurance providers foot their bills, and doctors mention treatments like homeopathy without batting an eye. None of this, however, quite prepares you for a mental health specialist who recommends spinning around in circles while screaming at the top of your lungs in undecipherable gibberish.
"It's good for you," explains Tim Grimes. "It will loosen you up right away."
Grimes' theories on relaxation and stress are about to be released to the general public for the first time, with the unveiling of a multi-disc video series simply titled "Stop Being Serious."
In a culture where a growing number of people are reliant on practices like meditation and yoga as a form of stress relief, Grimes has offered up something that appears vastly different. He advocates for people to become less serious, and says the best way to do that is not by sitting down and breathing deeply. It is by acting - for all intents and purposes - a little crazy.
"We have been taught that the best way to relax is to calm down," Grimes says, "but that is not always true."
Like many of a new generation of therapists, Grimes is interested in mindfulness and how people directly relate to their thoughts. The difference is in what he recommends his clients do to become mindful.
In a process he calls "spazzing out," Grimes will have clients move their bodies around at a frantic pace. They might swing their arms around wildly while belting out a show tune, or vigorously hop up and down as if in a cartoon. Seeing someone in a state like this, you might assume the person is mentally disturbed. But for Grimes, who refers to himself as a Radical Counselor, the opposite is true.
"When people really physically let loose like this and just act ridiculously with their bodies, all of a sudden their minds become very relaxed."
While most mental health clients are told to slow down in order to relax their minds, Grimes allows his followers to speed up. In his opinion, we only suffer because we take our thoughts too seriously. If we are overwhelmed with the state of our mind, when we have particularly dark thoughts we are often not able to handle them. We become lethargic and sad – or sometimes deeply depressed.
This is why Grimes says that putting someone in a quiet, contemplative place with their negative thoughts can be beneficial, but also have drawbacks.
"Sometimes you don't want to be alone with those bad thoughts, sitting down meditating so seriously in a silent room," he says.
Grimes does not believe much in contemplation when it comes to mental health. He thinks if we move around enough, and behave ridiculously with our body and our voice, the negative thoughts that bother us will have no other option but to go away.
"It's impossible," Grimes says with a wry grin, "to feel bad if you are acting as goofy as I suggest."
And how "goofy" is that? Grimes often recommends people speak in funny, unnatural voices (like those of a baby or an animal) for hours on end. He recommends yelling, sometimes at people. He says a good form of exercise is to go to a park and sprint in circles while singing a song you like. All his recommendations seem to push the envelope, and easily delve into the bizarre.
But they also seem to work.
"What Tim shows people is how reliant emotionally they are on their thoughts," Kate Daly says. Daly is a clinical social worker in Boston, and Grimes' partner.
"What he suggests seems pretty wild until you try it," Daly says with a laugh. "I mean it is wild. But once you do it, it is also fun and extremely liberating. It's very freeing."
She has a point. While there has been an added therapeutic emphasis put on the mind-body relationship in recent years, there are few mental health specialists who have provided as much tangible evidence of this unique relationship as Grimes. Perhaps there is no better way of understanding our body and how it affects our thinking than to jump up and down while making strange noises normally reserved for the primate exhibit at the zoo. Moving your body excitedly as Grimes suggests, or speaking in comic babble, makes you stop regarding yourself as a serious grown up. Which seems to be exactly what Grimes is trying to get at.
"Look at kids," Grimes says leaning back in his chair, "they aren't nearly as stressed out as we are. And you know why? It's because they aren't worried about what they're thinking. We're worried about our thoughts all the time. We're so serious! Of course we're depressed."
Grimes is happy with "Stop Being Serious," and he has reason to be. Even if you think the behavior he recommends for stress-relief is nonsense with no scientific bearing, there is a certain philosophical underpinning to the videos that is hard to deny. At one point in the series Grimes says it is impossible to suffer except when we are serious. In a normal setting it would be easy to refute such a statement, but after watching Grimes expound on the neurotic relationship we have with our thinking, it is harder to come up with much of a counterpunch to his argument.
For Grimes, theories cannot supersede actual physical experience. This makes him a bit of an anomaly in the world of mental health. He has no problem discussing ideas as to why we suffer, it is just that he gives them less credence than most because of his unwavering faith in how our body influences our thinking and emotions. Throughout "Stop Being Serious" he cajoles the viewer with how easy it is to behave less seriously. And that might be the scary part. It is actually very simple to do what Grimes recommends. Maybe the ease of turning into an unbridled primitive makes us face the fact that we are all much more alike than we care to admit.
"You can call me crazy. That's all right," Grimes says calmly.
We smile slightly, because we know the one thing this man is not, is crazy.
###