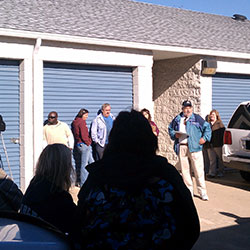 I can't believe how much money people bring to these things.
Manassas, VA (PRWEB) November 09, 2011
A crowd of prospective buyers at a recent storage auction in Virginia were shocked when frenzied bidding resulted in the $27,000 sale of a pair of storage units that were owned by the same person, reports Storage Auction Central, a leading provider of news and information detailing the operation of self storage lien auctions.
Contents of self storage units are auctioned when a person fails to pay rent on a unit he or she has leased, a process that has received a lot of attention over the past year as four popular "reality-based" television shows have surfaced that detail the behind-the-scene operation of these auctions. It's estimated that over 10,000 storage auctions a day take place in the United States.
Storage Auction Central reports that when the pair of 10' x 20' lockers were opened for review, the crowd of buyers could "smell the 1800's" as they were presented with a wall-to-wall sea of antique furniture, art, memorabilia, old books, and other treasures.
Veteran bidders with deep pockets were in attendance that day, and several were quite interested in acquiring these units. One patron immediately threw out a $10,000 bid and then stepped aside as several buyers quickly escalated the price to $20,000. The action then slowed as two final bidders battled over the units, pushing the bid to over $25,000. At $27,000, one of the two conceded and a man known to many of the patrons as Bob paid cash to take ownership of the contents of both storage lockers.
A Storage Auction Central writer caught up with Bob to get more details. Bob relayed that this unit had been owned by a World War II General who was well-connected and enjoyed collecting items of historical significance. He mentioned some of what he had found in the unit: dozens of antiques, papers and items from the civil war, documents signed by seven former Presidents, and a cane belonging to Harry Truman. Bob estimated that he had found at least $100,000 worth of valuables, and he still had not finished sifting through everything.
One patron in attendance remarked that Bob had been "going to storage auctions for over ten years" and that he is "quite open with the other bidders and enjoys talking about his finds." Another woman exclaimed, "I can't believe how much money people bring to these things."
Storage Auction Central provides news and information involving the operation of self storage lien auctions in North America. For more details about storage auctions, visit http://storageauctioncentral.com, or, join the active discussion on our storage auction forum.
###