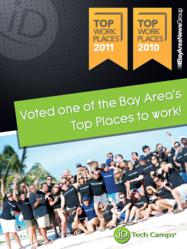 Everyone is highly motivated – who wouldn't want to help educate kids, or plant trees?
Campbell, CA (PRWEB) June 21, 2011
"I love coming into the office – between Nerf gun fights and bubble wrap pranks, we all set and meet really cool goals," says iD Tech Camps Client Services Manager Patrick Hile. "I take pride in my work, and I know that what I do matters. There's nothing better than making a difference in kids' lives."
Hile's sentiments are shared by many of his co-workers at iD Tech Camps – a fact that has propelled the summer camp company onto the Bay Area's Top Workplaces list for a second consecutive year. iD Tech Camps, ranked 5th among small businesses in 2010, was recently announced as 7th place on the 2011 list.
iD Tech Camps, along with its iD Teen Academies, is the industry leader in summer technology education. The company offers summer courses in STEM (Science, Technology, Engineering and Mathematics) fields ranging from video game design to iPhone® app development, Maya® 3D animation and C++/Java programming. Students learn in a hands-on environment that encourages experimentation and creativity – surroundings not unlike the company's corporate headquarters in Campbell, CA.
Based on a survey by the Bay Area News Group that included categories in leadership, work conditions and values, the family-run company joins other small business leaders Nova and Sereno Group Real Estate. Their common denominator? All are innovators in their fields, blazing new trails in both service and business.
iD Tech Camps has debuted a number of new programs in recent years, some aimed at giving clients a continually better experience, and some with a goal of large-scale global impact. One Camper One Tree, for instance, is a new iD initiative that plants one tree for every camper attending an iD program in 2011. The initiative was launched in partnership with the Arbor Day Foundation and has so far planted over 18,000 trees, with a 2011 season goal of planting 20,000 trees by the end of the summer. iD Tech Camps also plans to recruit other camps to join the program, ultimately aiming to plant one million trees by 2015.
"It feels great to work for a company that so obviously cares," says VP of Marketing & Business Development Karen Thurm Safran, who has spent the last ten years working for iD. "Everyone is highly motivated – who wouldn't want to help educate kids, or plant trees? And the energy is contagious. We're always trying to make things better – for our students, and for our employees."
Aside from earning another Top Workplace spot, that contagious energy has driven the company to record enrollment levels. Summer 2011 is the largest season in the camp's history, and iD plans to expand its locations and student capacity for 2012. After stocking up on Nerf guns and bubble wrap, of course.
ABOUT iD TECH CAMPS AND iD TEEN ACADEMIES
iD Tech Camps is the World's #1 provider of summer computer camps and technology camps for kids and teens with programs held at 60 elite universities in the U.S. Summer camps are held at Stanford, Princeton, Harvard, UCLA and other prestigious universities nationwide. Over the past thirteen years, more than 120,000 students ages 7-18 have participated in iD programs. Students create iPhone® apps, 2D and 3D video games, websites with Flash®, C++ and Java programs, 3D models and animations with Maya®, digital photography, films, robots and more. There are also 2-week Teen Academies: iD Gaming Academy, iD Programming Academy and iD Visual Arts Academy. Visit http://www.internalDrive.com or call 1-888-709-TECH (8324) for more information.
###