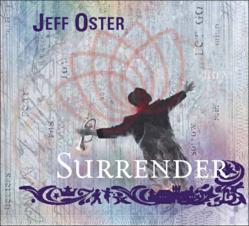 Surrender isn't about giving up – it's about letting go…
Los Angeles, CA (PRWEB) September 09, 2011
Jeff Oster's fourth recording, Surrender (released on Retso Records, August 16, 2011), is steeped in down-tempo, instrumental grooves seasoned with his one-of-a-kind sensuous trumpet and flugelhorn. In fact, Jeff utilizes his background as a classically-trained jazz artist, combined with ambient electronica and synthesizer embellishments, to create an aural atmosphere quite unlike any other musical experience. Illinois-born, San Francisco-based, and world-renowned, Jeff's mastery of the trumpet and flugelhorn are showcased on Surrender in a contemporary and innovative setting that shies away from a typical orchestral or jazz ensemble sound.
Four years in the making, Surrender breaks new ground in the New Age, down-tempo, and electronica genres. Furthermore, Surrender has been submitted for the 54th Grammy® Awards consideration. Acclaimed Grammy® Award-winning guitarist/producer and Windham Hill Records founder, William Ackerman, produced Jeff's previous two award-winning full-length albums, Released (Retso Records, 2005) and True (Retso Records, 2007). Jeff turns heads with Surrender, chosen as Album of the Month for September 2011 by the popular US-based Echoes, a nationally-syndicated NPR radio program dedicated to ambient New Age, electronic, and space music; Jeff's previous two releases garnered the same honor.
Jeff's sensuous and brassy sound is brought to life by Bryan Carrigan's sound design, synthesizers, and drum programming. Bryan and Jeff co-produced Surrender, and Bryan co-wrote eight of the songs on the album. His skills as a producer, engineer, synth programmer, remixer, and composer of electronic music cover many genres, with a resume including the soundtracks for Marley and Me, Charlie's Angels 2, Tropic Thunder, 40-Year-Old Virgin, as well as albums by Alanis Morissette, Seal, No Doubt, and many more.
Adding her grace to Surrender is New Age legend Diane Arkenstone, a US-based musician that has topped the New Age charts since 2000. Her voice is alternately airy and resonant throughout the album, weaving a beautiful tapestry of sound.
The title track, "Surrender," features breathy, floating vocals by Diane amidst a light, trip-hop beat and warm flugelhorn; her voice is evocative of the female lead singers of Zero 7, Enigma, Alpha, or Hooverphonic. "All That Matters" treads down-tempo waters; the sparkling synths, trip-hop percussion, and sparse vocal accompaniment by Jeff make the track stand-out with minimal effort. On the meaning of the track, Jeff says, "Seize the moment…Tomorrow isn't guaranteed, and yesterday has already happened. All that matters is right now." The enchanting, Portuguese-titled, "Voce Quer Dancar," is an alluring, instrumental composition that has a slow, silky rhythm that echoes the charisma of Sade. "Nikki's Dream" is a cinematic track perfect for lounging or dreaming with musical similarities to Thomas Newman.
In addition to Diane's vocals, Jeff's poetic and expressive spoken wordplay on "The Voice," adds a touch of introspective comfort that is soothing beyond belief. "Essence of Herb" is a trip-hop sensation with fine electronic washes and spacey tones. "2 Di 4," "Beautiful Silence," "53 Mirrors," and "The Theology of Success" are delicious tracks with Waldeck and Alpha qualities, two big names in electronica and down-tempo music. The last track, "Enlightened Darkness," is a crystalline medley of sacred chant, atmospheric noise, and flugelhorn originating from somewhere in the not-too-distant galaxy. While Jeff chants "Om Mani Padme Hum," Diane's vocals echo the Middle Eastern qualities of Azam Ali and the Indian charm of Sheila Chandra in a piece that is destined to become a yoga classic.
Surrender is an album with multifarious influences. The trumpet and flugelhorn bring to mind the talents of Chris Botti and Mark Isham, while the down-tempo and jazz melodies cement Jeff's mark in the world of electronica. The music is groundbreaking, rich in previously unexplored electronic and jazz nuances. Along with Diane's vocal contributions, Jeff describes his music as "Miles meets Enigma." Descriptions aside, Jeff manages to cultivate a fresh, unique, and exciting musical experience for New Age, electronica, and down-tempo audiences.
Chris Coco, a talented British DJ, producer, and downtempo dynamo adds his thoughts on "Voce Quer Dancar," which he remixed for the album, saying he "…fell in love with the melody and the trumpet sound…it will definitely get played at sunset next time I am in Ibiza…"
On the overall inspiration for the project, Jeff notes "Sometimes life asks you to let go – to give up control. It can be pretty overwhelming sometimes, whether it is all of the sadness and conflict we see in the world, or in relationships with ourselves and others. We always have a choice. You can make yourself crazy resisting the way things are, or you can accept them and work for a positive, more fulfilling outcome. Surrender isn't about giving up – it's about letting go…"
Surrender is available for purchase via Amazon, iTunes and Jeff Oster's website; in addition to the links below, he can also be found on MySpace, ReverbNation, and Twitter as @Jeff_Oster.
http://www.jeffoster.com - Official Artist Website
http://www.facebook.com/ffejretso - Facebook Fan Page
http://bit.ly/TheJeffOsterEPK - EPK
http://www.youtube.com/ffejretso - YouTube Channel
###