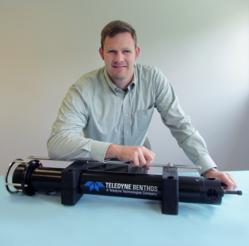 "Justin is an enormous asset to the Teledyne Benthos team," said Vice President and General Manager, Thomas W. Altshuler.
North Falmouth, MA (PRWEB) July 15, 2011
Teledyne Benthos, Inc., a Massachusetts based manufacturer of ocean instrumentation and underwater survey systems added a new member to its executive team – Senior Director of Business Development, Justin Manley. Teledyne Benthos is proud to welcome Manley, a dynamic professional who will help guide the Company's continued growth. In his new role, Manley will manage and advance a diverse product line including deep ocean flotation and instrument housings, geophysical survey systems, remotely operated vehicles, undersea locators, acoustic releases and the Company's industry leading acoustic modems.
"Justin is an enormous asset to the Teledyne Benthos team," said Vice President and General Manager, Thomas W. Altshuler. "His extensive scientific, engineering and business development experience will play a pivotal role in the continued development and expansion of the business in key and emerging markets."
As Senior Director of Business Development at Teledyne Benthos, Manley is charged with all facets of business development, including overall strategy, new market segments, and managing the existing client base. He brings over 16 years of experience in the areas of scientific research and engineering, business development, management, and business development strategy. Most recently, Manley was the Senior Director of Scientific and Commercial Business for Liquid Robotics, Inc.
Prior to Liquid Robotics, Manley provided marine technology consulting services, primarily to the Federal Government. As Lead Ocean Engineer at Mitretek Systems and subsequently Senior Research Scientist and Research Leader at Battelle he supported the National Oceanic and Atmospheric Administration (NOAA) particularly its Office of Ocean Exploration and Research (OER).
Manley holds Bachelor of Science degrees in History and Ocean Engineering, and a Master of Science degree in Ocean Engineering all from Massachusetts Institute of Technology. In addition Mr. Manley is a Senior Member of IEEE and serves as membership secretary of ASTM Committee F41 developing technical standards for Unmanned Maritime Vehicles (UMVs). Manley has served as the Chair of the UMV Committee for the Marine Technology Society (MTS) as well as the Editor of the MTS Journal. He is currently the Vice President of Government and Public Affairs for MTS.
About Teledyne Benthos
An industry leader for nearly 50 years, Teledyne Benthos designs and manufactures rugged, reliable oceanographic instrumentation and sensor solutions for marine environments. Teledyne Benthos products include: acoustic releases, acoustic telemetry modems; hydrophones; geophysical survey systems; glass flotation spheres and instrument housings; and locating devices. For more information, visit Teledyne Benthos' website at http://www.benthos.com
About Teledyne Technologies
Teledyne Technologies is a leading provider of sophisticated instrumentation, digital imaging products and software, aerospace and defense electronics, and engineered systems. Teledyne Technologies' operations are primarily located in the United States, Canada, the United Kingdom and Mexico. For more information, visit Teledyne Technologies' website at http://www.teledyne.com.
###