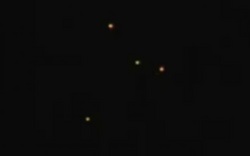 The V shape pattern would start to rotate in a spiral clockwise pattern about 30 RPM
Okotoks, AB (PRWEB) February 20, 2011
Alex Scerbicke of Bartlett, Illinois, recorded amazing video footage of what appears to be a UFO or group of UFOs changing formation. Other people Alex has contacted have confirmed the lights are not a radio tower or anything of the like. What the objects in the sky are remains a mystery to Alex. He has submitted this video, with an image, to niternat.com and MUFON, in hopes of getting someone to investigate further.
After speaking with Alex, we at http://www.niternat.com have come to the conclusion that this is not a hoax. Alex just wants this explained. If you have any questions about his sighting he can be contacted on his profile: http://www.niternat.com/profile/AlexScerbicke.
A video of this UFO can be viewed at http://www.niternat.com/video/orange-ufos-return-chicago.
According to one witness, this happens every night in the same spot. He states that sometimes there are up to 10 lights near each other, sometimes their are only three. They are big spheres that are extremely bright and usually rainbow colored. The location closest to where they fly over every night is in Crete, Illinois, near a road called Old Post Road by the Plum Valley subdivision. The witness was in his room last night looking out the window and saw three lights. They flew in a variation of fast and slow but they stayed in the same area almost the whole night.
According to another witness he and his son were out snowmobiling and noticed a strange pattern of orange lights in a giant V shape. Thinking they were just 12 aircraft in a hold pattern for O'hare International Airport, they drove up to a large hill and turned off the snowmobile to watch the lights. After sitting there for over 30 minutes, the lights never moved from their location. They only changed their pattern, from a single row of lights in a V shape, to a double row of lights that would split off from the original V. The highest light/object in the V shape pattern would start to rotate in a spiral clockwise pattern then stop and become a single light in the sky.
http://www.niternat.com is a new social orientated website for the paranormal & UFO phenomenon with live wikileaks on aliens, up to date news with a large collection of full length documentaries, images and UFO videos you can upload. Post on our forums, create a blog, join groups, design your own member page and meet new friends, For more stories like this visit niternat.com. Join free today.
Full witness reports, including Alex's story, can be found on niternat.com.
By Michael S Walker niternat.com
Attribution:
Video Alex Scerbicke
Story Michael S Walker
# # #