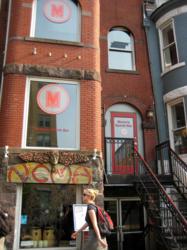 Washington, D.C. (Vocus/PRWEB) March 10, 2011
The restaurant ownership group of Tabaq Bistro, Bistro Labonne, Soussi, and Utopia further expanded their presence in the corridor by signing two more leases at 1334 U Street. Opening today is Touchdown, a 2,200 square foot sports bar on the upper levels to be followed by The Codmother, an English style fish and chips cafe on the lower level.
Principal Omer Buyukbayrak and his team have operated successful restaurants in the District for the past 20 years and currently own four locations along U Street including Tabaq Bistro directly adjacent to their newest venture. The building, which Capital Retail Group is responsible for leasing and managing, was previously leased to long time tenant Neema café. "This building is at the heart of the U Street corridor which is becoming a magnet attracting strong restaurant operators," states Robert Tack, CEO of Capital Retail Group. He goes on to say "We vetted several restaurant and pub owners and believe this ownership group is most apt for success because of their knowledge of the U street market, impeccable commitment to service, and fantastic quality food offerings."
According to Tolga Erbatur, Chef and Partner, "Touchdown serves high quality comfort foods including burgers, chicken wings, and oven roasted ribs." He goes on to say "The Codmother will be a true Chippie, with the fish being fresh, the batter crispy, and the fries cooked just right."
Omer Buyukbayrak states, "In growing our business, our mission is to secure high-quality locations where we become part of the neighborhood, reflecting the unique attributes of the area. The U street corridor is a thriving market with a diverse and affluent population."
Aaron Spencer, the 1B DC Commissioner, says, "From a community development perspective, it's great to see new establishments which add to the diversity and richness of our neighborhood. It's a win-win situation when local U St. business owners who have a history of commitment working with community groups to foster safe and vibrant neighborhoods, continue to reinvest in the neighborhood. Touchdown and the Codmother will benefit both the community and economic development."
# # #