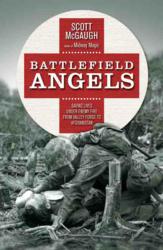 "Four out of four stars!" —North County Times of San Diego
Long Island City, NY (PRWEB) October 26, 2011
Osprey Publishing is excited to announce a selection of new titles covering a broad range of topics that will give you an edge in your coverage for Veterans Day 2011, which will occur on Friday November 11th.
First up is Battlefield Angels (Osprey, July 2011), which Publisher's Weekly called "fascinating" and the North County Times of San Diego gave four out of four stars. Author Scott McGaugh tells the story of America's military medical corps, from the time of the Revolutionary War through the present day. Battlefield Angels is filled with facts about the evolution of battlefield medicine and moving anecdotes of real-life army medics and navy corpsmen who have given courage, comfort and healing to our front-line soldiers throughout our nation's history.
Next we have Always Faithful (Osprey, October 2011) by Eric Hammel. Always Faithful is an over sized coffee table book that presents one hundred combat photos from the Pacific Theater of Operations of the Second World War. The photographs tell the story of the Marines' costly victory over the Japanese. Over the years, historians, novelists, film makers and artists, have attempted to capture what it was like to fight in the Pacific. In Always Faithful, readers are invited to take in the combat slowly, as it unfolds, image by image. Tom Ricks of the Washington Post has called Eric Hammel, "One of our most interesting and dedicated military writers."
If you're looking to tie your Veterans Day coverage into the kick-off of the Civil War Sesquicentennial remembrances, check out our new Pocket History of the Civil War (Osprey, August 2011) by Martin F. Graham. The book is published in conjunction with The National Civil War Museum in Harrisburg Pennsylvania. Each of the books' eight chapters presents a different theme, ranging from the transformation of civilians into soldiers to the prison systems of North and South. Graham also provides 4-5 page overviews of each of the key battles of war from Fort Sumpter to Appomattox. The final chapter offers brief biographies of eight unusual characters from the war—and a surprising event from its aftermath. An appendix provides a "test your knowledge" section, a glossary, and a list of books further reading.
And don't forget that November 10th is the Birthday of the Marine Corps. To celebrate, Osprey will publish Backbone: History, Traditions, and Leadership Lessons from Marine Corps NCOs (Osprey, November 2011) by Julia Dye. LtCol Dave Grossman (U.S. Army, retired) says this about Backbone, "This remarkable book cracks the bone and examines the 'marrow' of leadership!" According to Dye—and most Marine Corps insiders—NCOs are the "backbone" of the Corps—the core of the Corps. In order to help us better understand what makes Marine NCOs such effective leaders, Dye examines the 14 traits embraced by every NCO. Dye believes that these qualities—which include judgment, enthusiasm, determination, bearing, and unselfishness—are best exemplified by men like Terry Anderson, the former Marine sergeant who spent nearly seven years as a hostage in Beirut, and John Basilone, the hero of the Pacific in WWII. To assemble this extraordinary chronicle, Julia Dye interviewed Anderson and dozens of other Marines and mined the trove of historical and modern NCO heroes that comprise the Marine Corps' astonishing legacy, from its founding in 1775 to the present day.
Scott McGaugh, Eric Hammel, Martin F. Graham, and Julia Dye are available for interview upon request. To request review copies of one or all of their books, please contact John Tintera at john(dot)tintera(at)ospreypublishing(dot)com or call 718-433-4402.
# # #