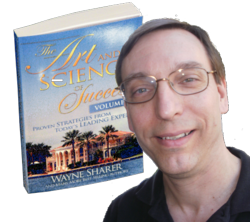 If you want to change the past, then start making your future now. Tomorrow the future will be your past.
Washington, DC (PRWEB) October 11, 2011
Wayne Sharer, an expert on creating success as an entrepreneur and business coach, is a co-author for the recently-released best selling book, The Art and Science of Success Volume 2, Proven Strategies From Today's Leading Experts. The book is a collection of works from authors sharing their stories of inner resolve, proven strategies and advice on how readers can gain success in virtually all areas of life.
The book is the second volume in the best-selling anthology series of The Art and Science of Success®. In addition to Wayne Sharer, essays from Matt Morris, Johnny Wimbrey, and Marc Accetta, joins those of top professionals from throughout the world providing personal accounts of triumph over adversity. "Many of them had to overcome challenges to find their own version of success, and those stories are heartening and enlightening. We are truly honored to have Wayne Sharer and his inspiring story as a contribution to the book," says Traci Williams, President & CEO of Success You Publishing.
I believed it essential to everyone to understand there is nothing limiting your personal success. I shared my deepest personal struggles in order for readers to grasp how success comes from your personal will, and how anyone can literally overcome anything they put their mind to," says Wayne Sharer.
According to Williams, President & CEO of Success You Publishing, "If there is a single lesson in this collection, it is that understanding The Art and Science behind success can enable people to dispel fear, seize opportunity, and overcome adversity." Williams notes "Each may take a different road, but somewhere in this collection of personal triumphs is an example that will resonate with you."
Wayne Sharer and his business partner, Daniel Gonzalez, work in many endeavors to help create success for as many people as they can reach. Wayne provides business coaching online to help new businesses create successful online businesses from nothing. Daniel works out of New York helping non-profit organizations raise money for essential job training programs for the underprivileged.
The Art and Science of Success: Volume 2, is published by Success You Publishing, LLC. It is now available at Amazon.com, Barnes and Noble, Book-A-Million, WayneSharer.com and through contributors.
###