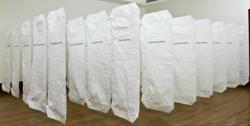 "The Fellowship celebrates Native American contemporary art and artists while dissolving the stereotypes that inhibit the inclusion of their work in mainstream venues.
Indianapolis, IN (PRWEB) December 07, 2011
The Eiteljorg Museum challenges the stereotypes of Native contemporary art with its bold and provocative new exhibit that proclaims We Are Here! which runs through Feb. 12, 2012.
Native art is often confined to the fringes of the mainstream art conversation. By presenting the work of five of today's best and most relevant Native artists through the museum's unique Eiteljorg Contemporary Art Fellowship, We Are Here! aims to combat narrow perceptions of Native art and raise awareness of the full range of contemporary art.
The 2011 Fellows are Bonnie Devine (Ojibwa), Toronto; Skawennati (Mohawk), Montreal, Canada; Duane Slick (Meskwaki/Ho-Chunk) North Provenance, R.I.; Anna Tsouhlarakis (Navajo/Creek/Greek), Washington, D.C. and Invited Artist, Alan Michelson (Mohawk), New York City.
This year's exhibition, We Are Here!, includes more than 45 examples of contemporary, engaging and challenging works across a wide range of mediums including web, photography, installation, drawing and painting.The exhibition features unique pieces like Manitoba by Devine, an installation of 62 pandemic body bags, which was created to highlight the Canadian government's answer to a tribal request for medical help during the H1N1 flu pandemic of 2009. In addition to vaccines, the government sent 62 body bags, one for every reserve on Manitoba.
Another example of Fellows' unique artwork is Skawennati's TimeTraveller™, starring Hunter, a Mohawk superhero from the future. Hunter was created by Skawennati in cyberspace within the web-based portal Second Life. She has also created websites such as http://www.imaginingindians.net.
The exhibition will close on Feb. 12 and travel to New York City to the Smithsonian National Museum of the American Indian in May of 2012.
Fellowship exhibition affords recipients more visibility
Many people stereotype Native American culture and art, as simply tipis, feathers and blankets. The Eiteljorg Museum's Fellowship program is confronting this perception. The museum provides visibility for artists and helps raise awareness that Native artistic expression has great range and depth beyond romanticized, conventional views of Native cultures.
In the 2001 catalog for the Eiteljorg Contemporary Art Fellowship, Jennifer Complo McNutt, Eiteljorg Museum curator of contemporary art, describes the Fellowship's mission as providing Native American artists with the prospect of "greater influence and more visibility within the mainstream contemporary art world."
"The Fellowship celebrates Native American contemporary art and artists while dissolving the stereotypes that inhibit the inclusion of their work in mainstream venues," Complo McNutt says.
Says Amei Wallach, international art critic: "The [EiteljorgContemporary Art Fellowship] is the only [program of its kind] in America…as far as I'm concerned, the only one in the world. It's important, because it encourages contemporary artists."
With the opening of the seventh cycle of the biennial Fellowship on Nov. 12, the Eiteljorg Museum has given more than $1 million to Native contemporary artists through the Contemporary Art Fellowship. As part of the Fellowship program, the museum grants each artist a $25,000 unrestricted grant and also purchases significant pieces of Fellows' work, which has helped the museum to amass the finest collection of Native contemporary art in the world.
The museum is grateful for the generous and longstanding support of the Lilly Endowment, which has made this internationally-renowned initiative possible. We would also like to recognize the Efroymson Family Fund, a Central Indiana Community Foundation Fund; the Ed Klink Emerging Artist Fund; the Ford Foundation and David Jacobs. Additional support is also provided by Baker & Daniels, LLP and M&I Bank and M&I Wealth Management.
The 2011 Fellowship exhibition launches with opening weekend activities, including an opening party on Thursday, Nov. 10, an awards gala on Friday, Nov. 11,and a daylong symposium of artists and scholars discussing issues related to contemporary Native art on Sat., Nov. 12.
We Are Here! Eiteljorg Contemporary Art Fellowship will be open through Feb. 12, 2012.
In 1999, with the generous support of Lilly Endowment, the Eiteljorg Museum in Indianapolis, inaugurated the Eiteljorg Fellowship for Native American Fine Art. This biennial program, developed by the museum in consultation with its board and Native American Council, culminates in an exhibition that honors an invited artist and five contemporary fine artists whose achievements warrant meritorious recognition. Each of the five fellows, who are selected by an independent jury, receives an unrestricted $25,000 honorarium to facilitate their continued growth as creative artists. In addition, the Eiteljorg purchases significant work by each artist for its outstanding permanent collection of contemporary Native American art. The Eiteljorg also publishes a catalog written by Native American and non-Native art historians, critics and scholars with each exhibition.
The Eiteljorg Museum of American Indians and Western Art seeks to inspire an appreciation and understanding of the art, history and cultures of the American West and the indigenous peoples of North America. The museum, which opened in 1989, is located in Indianapolis' White River State Park. For general information about the museum and to learn more about exhibits and events, call (317) 636-WEST (9378) or visit http://www.eiteljorg.org.
###