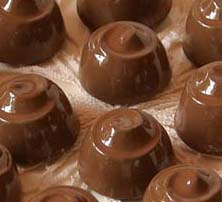 "I can't eat a lot of chocolate so I really hope the shoppers that show up on the 19th are ready to eat some chocolate!"
Shipshewana, Indiana (PRWEB) November 17, 2011
On November 19, Weaver Furniture Sales, an Amish owned, Shipshewana furniture store located in Shipshewana, Indiana will be offering guests free chocolate candies and other chocolate treats as part of an annual tradition started four years ago. There is no need to say "Trick or Treat". Visit Shipshewana for an adult version of Halloween without any need for costumes or tricks…just treats. While strolling through the aisles of mission furniture at Weavers or through the streets of Shipshewana, chocolate aficionados will be pleased.
The chocolate treats will be offered on the same day as Shipshewana, a quaint little Amish Country town in Northern Indiana, celebrates Chocolate Day with its annual "Chocolate Walk". Many Shipshewana retailers will be offering special discounts and chocolate treats all day long as part of the annual event. Chocolate lovers can find more information about the Shipshewana Chocolate Day event at Shipshewana.com.
"I can't eat a lot of chocolate so I really hope the shoppers that show up on the 19th are ready to eat some chocolate!" quipped LeRoy Weaver, owner.
The Chocolate Day event features a local Chocolate Walk in Shipshewana where one can purchase a collector's box for a small fee and then visit numerous local retail merchants to fill their chocolate box with a variety of locally made chocolates. The chocolates are free and proceeds from the event help to meet the needs of a disadvantaged person in the community.
About Weaver Furniture Sales:
Weaver Furniture Sales was established in 1989 in Shipshewana, Indiana, and is an Amish, family-owned furniture business that offers a full line of solid wood, Amish Furniture at affordable prices – for both residential and commercial purposes. As part of their client services, Weaver Furniture Sales provides furniture design consultation services, custom furniture options, furniture quotes, layaway options and various delivery alternatives for residences and businesses in the United States from their quiet country showroom in Shipshewana, Indiana.
LeRoy and Ida Weaver have owned and operated Weaver Furniture Sales for over twenty-two years, beginning with a 1,500 square foot showroom and expanding to over 15,000 square feet today. Previously, they owned and managed LeWana Dairy Farm where they milked cows and raised corn and hay.
###