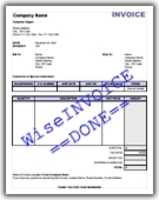 "...using WiseTREND method it is quick and efficient to make the change..."
Fremont, CA (PRWEB) March 7, 2011

Fremont, Calif. (PRWEB) March 7, 2011 -- WiseTrend, experts in data capture and document solutions powered by ABBYY OCR technologies, today announced a new method of servicing invoice/purchase order processing and AP automation customers. The method combines best technology based on ABBYY FlexiCapture (http://www.wisetrend.com/abbyy_flexicapture.shtml) with specialized training focusing on self-sufficiency of customers' internal personnel. This solution is part of a growing trend to eliminate runaway costs for professional services while obtaining expected results, and to empower customers to realize truly customizable, workable solutions with immediate and accurately calculable ROI. WiseINVOICE (http://www.wisetrend.com/solutions_accounting.shtml) solution was designed to answer these needs.
"Up until now, meticulous programming or applying the 'one-size-fits-all' approach for Invoice processing were the only solutions in the industry," said WiseTrend principal and founder, Ilya Evdokimov. "The approach was often misleading and misunderstood, and led customers to skyrocketing professional service costs, long integration periods, frustration, and inability to see clear return on the technology investment. As the quantity of document variations increases linearly, the complexity of setup increases exponentially."
WiseINVOICE solution will be presented in a free live Webinar on March 22, 2011. Subscription details are located here: https://www1.gotomeeting.com/register/487620080
Debunking the One-Size-Fits-All Myth
With over 10 years of data capture experience, the principals at WiseTrend developed a solution that utilizes customers' available internal resources to customers' advantage. WiseTrend's programmers previously spent weeks working with customers to combat the current industry lure—a one-size-fits-all solution for invoice processing. Software manufacturers promise a single solution as a magic pill for all template variations. "The reality is so different," said Mr. Evdokimov, who spent many professional service days running regression testing and complex setup for earlier AP projects. Over many projects, WiseTrend integration team streamlined and nearly shrink-wrapped the Invoice and Purchase Order processing setup to become a consistent and repeatable process. "With WiseTrend's approach and methodology within many common environments, customers should save at least two times the cost compared to other popular solutions, at least ten times the time and definitely 100 times the frustration," said Chris Riley, President of AIIM Golden Gate and recognized expert in the data capture industry.
WiseTrend's approach provides tangibles that are surprisingly uncommon in the industry, including predictable timeframe for achieving customer's return on investment as well as removing the unknown run-away professional service costs and deadline extensions. Following the proven formula, customers can anticipate the accurate calculation of time and effort it would require to build an effective data extraction system for a particular quantity of variations.
Customer Feedback
Todd Gruff, B & G Manufacturing Inc.'s lead for FlexiCapture ingratiation, said WiseTrend solution and services were top notch. "We were very impressed with ABBYY FlexiCapture's ability to capture the data we required. The software is easy to use and, with the terrific support from WiseTrend, the software's ability to be adapted to different variations of Purchase Orders is limitless". B & G Manufacturing Inc. is a world-renowned manufacturer and supplier of machined parts. The company receives high volumes of Purchase Orders that require accurate and efficient processing with data import to SAP.
IBT, Inc. is a well-known wholesale industrial supplier interested to optimize and streamline Invoice processing and storage. "After starting our data capture project with the industry's standard approach, we switched to a more predictable approach using WiseTrend methodology. After numerous testing this approach has proven to be the best way. The single complex template would not produce reliable results on different variations. There was too much time required filling in missed fields and even double checking all seemingly successful fields (aka false positives). Using this new methodology we can control and rely on the data capture results. Even when vendors are consistently changing their invoice format, which would cause serious complications and a major need for professional services in the past, using WiseTrend's method it is quick and efficient to make the change." Kevin Thompson and Randy Bledsoe are accountants at IBT, Inc., who now run and maintain their own full data capture system without any IT involvement. Captured data and images get exported to DocuWare. The project was led by Toshiba Business Solutions, a major copier integrator and ABBYY VAR.
Customer-centric Approach
WiseTrend spends all of its efforts to deliver top quality support, reliable solutions, and customer satisfaction.
The solution for Invoice/Purchase Order processing and AP automation uniquely combines best technology, minimal professional services, and internal staff training achieving customer independence, predictable ROI and increased productivity. WiseTrend is focusing its solution toward small-to- medium-size businesses and accounting departments--groups that traditionally may have been priced out of such invoice processing and AP automation services. Contact WiseTrend through http://www.wisetrend.com for an easy no-cost evaluation of your specific data capture needs and benefits.
ATTENTION: Free live demonstration of WiseINVOICE solution is scheduled for March 22, 2011. Sign-up today: https://www1.gotomeeting.com/register/487620080
About WiseTrend
WiseTrend consists of experts in data capture and document recognition technologies and solutions who work with ABBYY VARs and other organizations interested in benefitting from ABBYY's technologies. The company helps to solve business challenges through state-of-the-art document processing technologies, efficiency, and innovation. For additional company or product information, please visit http://www.wisetrend.com.
# # #