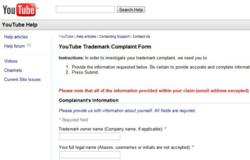 But using the second best name on YouTube can seriously hurt the brand perception. A company might look unprofessional, weak and less trustworthy without the relevant name on YouTube.
London, United Kingdom (PRWEB) June 30, 2011
If you do not have access to the relevant username it can be very frustrating for many corporations, and has a negative impact on the brand name.
SEO Specialist provides examples of 10 major airlines which can claim back their YouTube names.
(YouTube.com/YourName) with very little work involved. But first, why is usernames an issue?
User names are not like birth certificates, they are not given to users or companies automatically. A corporation must apply for a username to be able to get it.
Popular usernames are in high demand due to factors such as recognition, type in traffic and the fact they are memorable.
Many different companies might fight for the same name. In fact, many company names are similar and perhaps the jewellery brand, the radio station, craft retailer and the Japanese TV channel with the same name would all deserve to use pandora as their username (ie: YouTube.com/user/Pandora).
If a username is taken, but never used, it can be referred to as username cyber squatting. The chances of getting cyber squatters usernames increase over time if they are hold inactive.
Why confusing names can hurt your brand's reputation
Many businesses choose to not operate in social media at all due to the fact that somebody took their username. Others decide to become active in social media under the second best username available. But is second best good enough?
"Our SEO specialists believe it's better to be active in social media with an alternative username, rather than not being there at all, say Markus Jalmerot, chief executive of SEO Specialist Limited. He continues: "But using the second best name on YouTube can seriously hurt the brand perception. A company might look unprofessional, weak and less trustworthy without the relevant name on YouTube".
What's even worse is that brand names might be devalued by the negative exposure. Imagine if the current owner of a username will put up inappropriate videos, allow spam on the wall or make it look really bad. People might of course believe they arrived at the wrong place, but will their trust in the major brand also decrease?
It's therefore advised to follow the steps below how to get a deserved YouTube username for free.
3 steps to claim a corporate YouTube name
It only takes a few minutes of your time to get a deserved corporate YouTube name. Here is what to do.
1. Go to the current profile
Start going to the current profile, such as youtube.com/YourName/
If working with social media for Emirates, go to youtube.com/Emirates/
2. Look out for activity
There is two things to look out for:
-Any activity in the last 6 months?
-Any videos uploaded?
-Is the user actively participating in watching or commenting on videos or channels?
If the user haven't logged in to YouTube for at least six months and never uploaded any video content, chances of getting through a username claim on YouTube increase heavily.
3. Fill out YouTube username claim form
Both trademark holders and non trademark holders can fill out the 'trademark infringement form'. If not having a trademark, it can still be possible to get a username due to inactivity for over 6 months for the current user.
Go here and then choose 'Trademark issue with a username'.
10 airlines without their deserved YouTube names
Many major brands could easily get their rightfully deserved YouTube name, due to inactivity or trademark issues. A few examples:
-Air China
-Air France
-Aer Lingus
-EasyJet
-Emirates
-Etihad Airways
-RyanAir
-SpanAir
-Thai Airways
-WizzAir
How SEO Specialist got their YouTube name
SEO Specialist take usernames seriously and just succeeded to get their proper name on YouTube; SEOSpecialist. All in our SEO company was very pleased with the news and thought the story could be shared, so others can gain the same benefits.
It took less than 10 minutes to read through the legal text, file a complaint and after about 3 weeks our company received an email from YouTube saying we now have access to our YouTube username.
When filing a claim with YouTube, you only have space for about 40 words to fill out. Here is what SEO Specialist wrote:
"Dear YouTube, We find the current username seospecialist could mislead others to believe it's us (SEO Specialist Limited). The user has been inactive for over 2 years and is probably a username squatter (no activity, no uploaded videos etc)"
SEO Specialist is a London based SEO company, offering a wide range of search engine optimisation services, such as SEO consulting and performance based SEO.
###