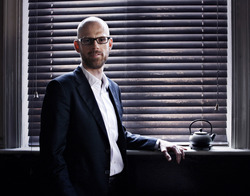 For me tea is about sharing stories and spending time with family and friends. Growing up in a house where tea drinking was a big part of everyday life I believe the enjoyment of tea is partly due to its sociability.
(PRWeb UK) February 24, 2011
Launched in 2010 by tea enthusiast Seán Farrell, Château Rouge Tea is an award winning tea brand that sells its range of teas from around the world exclusively in outlets like Harvey Nichols and online through its website. The teas of the world range features eight different loose leaf tea varieties from a mellow handcrafted White Monkey to a delectably scented Formosa Pouchong and special long-cut Rooibos, and includes some of the world's most exciting undiscovered brews.
Seán believes the brand was born from a love of travelling, and the enjoyment of tasting foods from all corners of the globe. "Some of the thinking behind the brand was to sell a range of teas that are a bit different from the regular varieties, to create a bit of adventure in tea drinking. We have a Darjeeling-style tea from India, a Nepalese tea and a slightly alternative blend of Earl Grey. All the teas are single-estate and the inspiration for the collection comes from a journey of discovery and finding new flavours along the way. I am a real food lover and enjoy uncovering innovative tastes. I have therefore chosen teas which reflect my travels". Born in South Africa, Seán attributes his love of tea to the different countries he has visited. "I have spent the last 15 years in different parts of the world and this has been my focus for the development of the brand. I particularly found inspiration when I was living in Paris, and this became the main focal point behind the brand's identity."
Named after legendary Château Rouge found in Paris, Seán believes the brand is based on the positive effect of colonialism in the tea market. "I was inspired by an era in history when European traders brought exotic delicacies back from their travels. Each variety of tea reflects this and represents a different part of the Château." With packets embossed with peacock feathers and sparkling jewels the designs found on the packaging mirrors the opulence of this era. "Most tea brands feature quite basic, minimalist designs; I however wanted to bring a more luxurious feel which embraces the history and romance of a Château. I was looking to go against the grain of many modern tea brands being launched and opted for an unashamedly sumptuous design which evokes romance and the history of traders in days gone by". As well as being visually appealing, all the packaging is 100% recyclable and is made from FSC approved card, and all the tins and card are printed with environmentally friendly inks.
"Looking back 10-15 years ago, wine in the UK used to be quite restricted but now there are so many choices. The same applies to coffee, in the mid-nineties the trend for artisan coffees really started to take off, and in my opinion, traditional bagged tea is comparable to instant coffee. Whereas loose leaf tea is the equivalent to the coffee ground in cafeterias and cappuccino machines."
To spread the message of drinking better brews, Seán is looking to expand the current range by introducing more flavours and accessories. As to the future he believes the Chateau Rouge ethos could apply across a range of produce, from coffee and preserves to olive oils. "Too many foods have been wrenched from where they come from, resulting in a mediocre product that can be reproduced in any region or country. It's time to reclaim the things we eat and drink as something pleasurable, individual and extraordinary."
To find out more about Chateau Rouge speciality teas and for a chance to sample some of the world's most remarkable teas, please visit stand CC5-2 Hall 6 at Gulfood 2011, 27 March - 2 February Dubai (UAE). Or visit: http://www.chateaurouge.co.uk
Seán Farrell is the founder and owner of the recently launched London based speciality tea brand, Chateau Rouge. A self-confessed foodie and traveller, he attributes his love of tea to the different countries he has visited for the last 15 years. Chateau Rouge Teas are sold online and through selected high end retailers like Harvey Nichols in London.
###