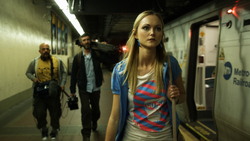 Given that the bulk of our story is set America, we're thrilled that the film is receiving its first proper screening in America.
San Francisco, CA (PRWEB) April 25, 2011
Irish film director Maurice Linnane and stars Lee Arenberg, Jay Thomas and Caroline Morahan will be in attendance at the North American premiere of A Kiss for Jed Wood on May 2 at the Newport Beach Film Festival in California.
A Kiss for Jed Wood, produced by Ignition Films, Tim Palmer, follows the journey of Irish reality TV show winner Orla Cassidy, (Jayne Wisener, Sweeney Todd) as she travels from Dublin to New York in pursuit of American superstar Jed Wood (Neal Bledsoe). Accompanied by Ray Timmons, (Mark O'Halloran, Adam and Eve) her reluctant cameraman, Mike, (Lee Arenberg, Pirates of the Caribbean) the soundman they hire in America, and Freddie (Rafael Sardina), self-proclaimed employee of the superstar, Orla's story becomes fodder for morning radio show host Carter (Jay Thomas) on mythic New York station The Great 108.
The film's soundtrack of current Irish and American independent musicians, including Lisa Hannigan, Elvis Perkins in Dearland, Jerry Fish & the Mudbug Club and more, reflect the long, illustrious film and television career of co-writer and director Maurice Linnane. Linnane began work as a video editor at the Windmill Lane Studios in Dublin Ireland, where he met and worked with film co-writer Barry Devlin on the U2 documentary The Making of All I Want Is You. Internationally, he has worked with musicians such as The Rolling Stones, Neil Young, Foo Fighters, Garth Brooks, Reba McEntire and Nora Jones.
Chronicling Garth Brooks on the road in Tryin' to Rope the World, Linnane gained an insider's perspective on the current world of American country music that helped him shape the adventures of his urban cowboy Jed Wood.
"Given that the bulk of our story is set America, we're thrilled that the film is receiving its first proper screening in America," Maurice Linnane said.
Veteran character actor Lee Arenberg achieved international recognition in his reoccurring role of Pintel in the Pirates of the Caribbean movie series. His career in television, stage and film spans two decades and his current project is 1066, an action-adventure based on the events leading up to the Battle of Hastings.
Actor Jay Thomas has appeared on numerous television series including Mork and Mindy, Cheers, Married People, and Hercules. He has also acted in film and television and currently hosts a talk radio program on Sirius Satellite Radio.
Caroline Morahan reprises an early career role as the host of The Fame Game, an Irish reality television show that inspired the story. Now based in Los Angeles, Caroline continues to work in film and television.
A Kiss for Jed Wood has also been shown at the 2010 Galway Film Fleadh in July and at the 20th Anniversary Coca-Cola Cinemagic International Film and Television Festival for Young People in November. The Newport Beach Film Festival marks its debut in North America.
A Kiss for Jed Wood will premiere at the Newport Beach Film Festival on Monday, May 2 at the Triangle Square 3, Costa Mesa California. tickets are $12 and are available online at the Film Festival site.
The film has been produced with the assistance of the Irish Film Board.
Further Information:
akissforjedwood.com
facebook.com/akissforjedwood
# # #