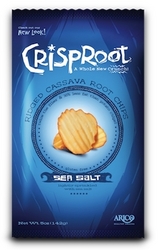 With the use of QR codes burgeoning, we want to position ourselves now to engage our mobile consumers
Carlsbad, CA (PRWEB) April 21, 2011
CrispRoot™ announces today its implementation of QR codes, 2-dimensional bar codes that open new avenues for building brand awareness by providing mobile consumers the ability to access company information, events and current promotions.
Using QR Codes is one more way CrispRoot is choosing to meet the public's demand for product information. At the snap of a smart phone scan with a QR reader, consumers can access information to make informed purchase decisions, or learn more about the production of CrispRoot chips - from planting cassava shrubs to the end product – cassava chips. With QR codes already in use at food industry events, CrispRoot plans to soon have QR codes displayed on its packaging, thus providing consumers an online information experience at the point of purchase.
"Scanning QR codes is an easy process that allows our consumers to stay informed on our promotions or chip give-away contests – something they always enjoy," explains Angela Ichwan, Owner and Chief Flavor Maker. "With the use of QR codes burgeoning, we want to position ourselves now to engage our mobile consumers. We're having fun coming up with ideas for video projects and additional educational materials to better serve the inquiries of our increasingly savvy customers."
About CrispRoot (Arico Natural Foods)
Arico Natural Foods introduced Cassava Chips to the American market in 2007. In 2011 it launched CrispRoot chips – formulated with ridges for great dipping and a whole new crunch. With family ties to Indonesia where cassava is sustainably grown, the CrispRoot team nurtures every aspect of the chip making process from tree to table. No artificial ingredients will ever be added to its products. CrispRoot chips are distributed online through alice.com and amazon.com, and through natural grocers such as Whole Foods and Sprouts Farmers Markets nationwide. For more information, visit CrispRoot at http://www.crisproot.com.
# # #