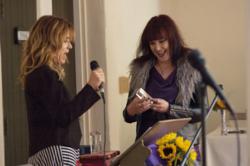 "Thank you to Charyn and Leanne and Jeff, and most of all Vicki and John and my family, for being there for me yesterday… I feel so illuminated!"

- Tish Ciravolo, President and Founder of Daisy Rock Girl Guitars
Los Angeles, CA (PRWEB) May 25, 2011
Project MuszEd, a non-profit organization providing music education and resources to underserved youth, honors Tish Ciravolo, President and Founder of Daisy Rock Girl Guitars, with the "Illumination Award" for her continued support and commitment to creating music opportunities for youth in need.
The "Illumination Award," honoring supporters of music education resources for underserved youth, was awarded to Tish Ciravolo and Daisy Rock Girl Guitars by Project MuszEd at their annual Making a Notable Difference Awards Brunch on Sunday, May 15th. Through generous donations and support, participants of the MuszEd program are afforded unique musical experiences that include music theory courses, exposure to auditions, ensemble performance, and culturally enriching and diverse events at major venues.
As an advocate of empowerment through music, Daisy Rock Girl Guitars is a dedicated sponsor of Project MuszEd and its mission of offering no- to low-cost music instruction and musical instruments to youth with financial need. Charyn Harris, Founder and Executive Director of Project MuszEd, stated, "As a visionary, Tish also believes in giving back, having gifted instruments to hundreds of aspiring rocker girls."
"Thank you to Charyn and Leanne and Jeff, and most of all Vicki and John and my family, for being there for me yesterday… I feel so illuminated!" said Tish Ciravolo upon receiving the "Illumination Award" from Project MuszEd. "It's truly an honor to support such a great organization and my hope is that many others will join in Project MuszEd's genuine cause too." Distinguished honorees at the awards brunch included Jeff Smith and Ge Wang of Sonic Mule (Smule) and Leanne Summers of the Los Angeles Women in Music organization (LAWiM).
Since its launch in 2004, Project MuszEd has served as a vehicle for many life changing opportunities for inner city youth that include scholarships to Berklee College of Music, opening for The Black Eyed Peas and Ozomatli, a recording session with Jimmy Jam & Terry Lewis, and a special performance with The Isley Brothers. For more information about Project MuszEd or to learn how to become an advocate, visit projectmuszed.org.
Daisy Rock Girl Guitars offers a complete line of quality girl guitars and basses. From their trademark "Slim & Narrow" neck profile to lightweight bodies, Daisy Rock Girl Guitars are designed to look and sound great, and to fit the female form. For more information, visit daisyrock.com.
ABOUT DAISY ROCK GIRL GUITARS
Daisy Rock Girl Guitars is the original girl guitar company dedicated to successfully supplying and marketing professional quality guitars for females of all ages. All Daisy Rock guitars are designed specifically for the female form and feature lightweight bodies, "Slim & Narrow" neck profiles to better fit smaller hands, and are available in inspiring finishes. Daisy Rock Girl Guitars' ongoing mission is to do whatever it takes to help girls play guitar and enjoy music.
Daisy Rock Girl Guitars is led by its Founder and President, Tish Ciravolo. Ciravolo is a highly acclaimed expert on female empowerment and females in music. Tish's expertise has been immortalized by her induction into the Museum of Making Music, the world's premier museum showcasing the history of the music products industry, and she is widely regarded as a visionary in the industry. Ciravolo's deep insight into the subject of girl guitars and female empowerment has made her a sought after and frequent contributor on national and international television, newspapers, magazines, websites, and radio programs including People, Time, Newsweek, CNN, ABC, NBC, FOX, VH1, the Premier Radio Network, BBC Radio, and the Associated Press. Daisy Rock Girl Guitars is in over 25 countries worldwide, and is co-owned and distributed by Alfred Music Publishing.
ABOUT PROJECT MUSZED
Project MuszEd (PM) is a nonprofit community-based organization serving the financially challenged youth with limited or no access to music instruction and resources. PM provides comprehensive music education in the disciplines of instructional applications, music appreciation, music theory, harmony, and performance ensembles. The organization has raised funds and provided instructors, instruments, and materials for students and for collaborative programs. Free and low cost music instruction and resources are offered to approximately 200 students annually.
###