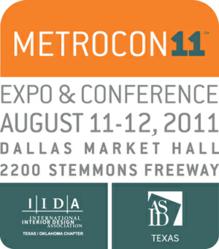 Dallas, TX (PRWEB) May 26, 2011
METROCON Expo & Conference, the annual regional two-day tradeshow focused on featuring the latest in products and innovative ideas to the Southwest region's interior designers, architects, facility managers, interior design students, and other vital design industry members – has experienced record success in 2011 despite the slowly recovering Architecture and Design industry.
All 37 of METROCON's 2011 Sponsorships sold out a month ahead of schedule, and booth sales are 31% ahead of 2010's figures. As of May 24, 209 vendors have secured 333 booths, leaving just over 40 10'x10' spaces remaining on the tradeshow floor. Booth sales will close June 24, 2011, or whenever booths sell out, whichever comes first.
After a record number of continuing education presentation submissions, METROCON11 will be offering more CEUs than ever before. Attendees may take advantage of 4,590 seats in 51 classes, a show schedule that allows an attendee up to earn up to 10 continuing education hours over two days while still providing seven hours on the tradeshow floor to engage with vendors and network with peers. The final CEU course schedule is posted on the METROCON website.
METROCON11 will take place at Dallas Market Hall [2200 Stemmons Fwy, Dallas, TX] on Thursday, August 11 & Friday, August 12, 2011. Online attendee registration runs between June 1 - July 29, 2011, and on-site registration is also available for $10 more than online registration fees. Any ASID or IIDA member attendee gets on the tradeshow floor for free and may take any amount of continuing education for a flat fee of $50. All others get access to the tradeshow for only $25 and may take any amount of continuing education for a flat fee of $125.
The annual conference is unique in that it is organized through landmark volunteer collaboration between the Texas Chapter of ASID [American Society of Interior Designers] and the Texas-Oklahoma Chapter of IIDA [International Interior Design Association]. In a determined effort to serve the corporate, healthcare, hospitality, institutional, multifamily, residential, and retail sectors, the two organizations join forces and pool resources to offer the best in exhibitors and interior design continuing education to their members and beyond.
Due to the extreme dedication and hard work of a handful of volunteers who make up the METROCON Committee, as well as the generosity of a variety of show sponsors – including 2011 Landmark Sponsor, Business Interiors by Staples, and 2011 Media Sponsor, Design Guide – prices for both Exhibitors and Attendees are extremely low relative to similar events around the USA.
Visit the METROCON Expo & Conference website to register for the event and to find out more details, including a real-time exhibitor list, two-day schedule, discounted travel through Dallas Market Travel, social networking links, and more.
# # #