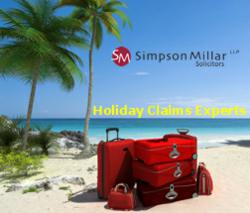 Tour Operators are often reluctant to admit fault
(PRWEB UK) 27 June 2011
The Office for National Statistics claims that British holidaymakers go on 45 million holidays abroad every year, spending around £25 billion in the process. Unfortunately, every year thousands find that they need to make holiday claims against their UK Tour Operators after their much-needed getaway fails to live up to the hype of the brochures and they return sick, injured and more stressed than when they left.
"Tour operators are often reluctant to admit fault – leaving holidaymakers disillusioned and out of pocket. Most people are unsure of their rights and it is important they know where they stand. Holiday providers have a duty of care to their customers but we regularly see cases where they seem to have forgotten that fact," said Nick Harris who is head of the Travel Team at national law firm Simpson Millar LLP.
Seeking immediate medical attention should always be the first point of call but holidaymakers must not forget the paperwork. Nick comments: "In the rush to try and salvage what's left of the holiday some people forget to keep a written record of any treatment they have had but this is essential if they are to succeed in making a holiday claim once they are safely back in the UK."
Holiday Accidents happen abroad just as easily as they do back here in the UK. For example a badly maintained hire car or a taxi crash could leave the passengers injured as could a slip or trip on a wet and broken tile by the pool area or in your hotel.
Some of the most common reasons why a week in the sun could turn into a holiday from hell are:
a) Poor hygiene practices at the holiday resort
b) Problems with package holidays: 'dynamic packaging' may save customers a few quid initially but there is no guarantee that all aspects of the holiday are protected. If a flight is cancelled or a hotel is overbooked, customers can easily be left stranded
c) Holiday illness from food poisoning at your all-inclusive hotel
d) Injuries caused by poor Health & Safety at the resort or hotel
The amount of compensation which could be claimed doesn't just take into account physical losses of, for example, lost luggage but also the cost of medication, missed excursions, hospital visits and more.
People who have been affected by strike action, cancelled flights and missed connections should always start by contacting the Air Travel Organisers Licensing Agency (ATOL).
Simpson Millar LLP's Holiday Claims team have over 35 years combined experience in the Travel Industry and are experts at getting compensation for holidaymakers who have been ill or injured abroad. Simpson Millar LLP is accredited with the Investors in People and Lexcel quality standards.
###