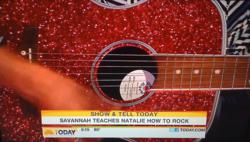 Los Angeles, CA (PRWEB) July 20, 2011
Daisy Rock Girl Guitars, the original girl-guitar company, was featured on The Today Show. Host, Natalie Morales, was shown how to play the Daisy Rock guitar in the NBC morning show's current feature "Show and Tell TODAY" where each host take turns teaching each other their favorite hobbies. The segment was filmed at Guitar Bar in Hoboken, NJ.
Fulfilling her dream of playing guitar, Natalie Morales had a private session with her show co-host—and guitarist/vocalist—Savannah Guthrie to learn how to play the guitar. The guitar chosen for the task: Daisy Rock's Pixie Acoustic guitar, Pink Sparkle finish. From holding and indentifying the guitar parts, to fret positioning and taking her first strum, Natalie received patient instruction from the self-taught Savannah.
To view the entire "Show and Tell TODAY" segment, visit: http://www.youtube.com/watch?v=IJIFeI70Hn8&feature=channel_video_title
"It looks great – if I could just learn how to play it," commented Morales on playing the sparkly finished guitar. The show segment led to their first live free concert in the streets of Hoboken NJ, featuring a folk-tinged duet performance of "You Are My Sunshine." The segment closed with Natalie satisfied with her experience and declaring a newfound appreciation for guitar playing.
Daisy Rock Girl Guitars is doing whatever it takes to help girls play guitar and enjoy music. With a complete line of quality girl guitars and basses, from their trademark "Slim & Narrow" neck profile to lightweight bodies, Daisy Rock Girl Guitars are designed to look and sound great, and to fit the female form. For more information, visit daisyrock.com.
ABOUT DAISY ROCK GIRL GUITARS
Daisy Rock Girl Guitars is the original girl guitar company dedicated to successfully supplying and marketing professional quality guitars for females of all ages. All Daisy Rock guitars are designed specifically for the female form and feature lightweight bodies, "Slim & Narrow" neck profiles to better fit smaller hands, and are available in inspiring finishes. Daisy Rock Girl Guitars' ongoing mission is to do whatever it takes to help girls play guitar and enjoy music.
Daisy Rock Girl Guitars is led by its Founder and President, Tish Ciravolo. Ciravolo is a highly acclaimed expert on female empowerment and females in music. Tish's expertise has been immortalized by her induction into the Museum of Making Music, the world's premier museum showcasing the history of the music products industry, and she is widely regarded as a visionary in the industry. Ciravolo's deep insight into the subject of girl guitars and female empowerment has made her a sought after and frequent contributor on national and international television, newspapers, magazines, websites, and radio programs including People, Time, Newsweek, CNN, ABC, NBC, FOX, VH1, the Premier Radio Network, BBC Radio, and the Associated Press. Daisy Rock Girl Guitars is in over 25 countries worldwide, and is co-owned and distributed by Alfred Music Publishing.
###