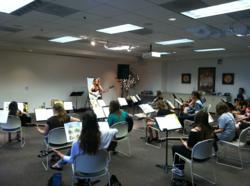 Any chance we get to work with girls and foster the enjoyment of music making is an opportunity we take.
—Tish Ciravolo, President and Founder of Daisy Rock Girl Guitars
Los Angeles, CA (PRWEB) July 13, 2011
Daisy Rock Girl Guitars, the original girl guitar company, teamed up with the Museum of Making Music and Alfred Music Publishing for the Daisy Rock Girl Guitar Workshop to teach young girls the joys of making music. Hosted by performer, music educator, and Daisy Rock artist, Nikki O'Neill, 17 aspiring girl guitarists were in attendance at the event held on June 24, 2011 at the Museum of Making Music, a Division of the NAMM Foundation.
The two hour girl guitar workshop for beginners was created especially for girls between the ages of 12 and 18 years old, many of whom were picking up the guitar for the first time. Students learned about the parts of the guitar and their function, were taught how to play eight popular chords used in thousands of songs, and learned how to read and write basic chord charts. The fun and engaging course had the girls apply lessons learned to their first performance song, "Happy Birthday." Upon completion of the workshop, the girls were taught how to play current radio hits such as "Good Riddance" (Green Day) and "Who Says" (Selena Gomez), along with the basics of chord progressions and song structure. Additionally, Nikki O'Neill shared her knowledge and insight on various careers avenues in music.
"Any chance we get to work with girls and foster the enjoyment of music making is an opportunity we take," commented President and Founder of Daisy Rock Girl Guitars, Tish Ciravolo. "Helping girls reach their full potential in music—or in whatever their passion might be—has and always will be a lifelong endeavor of ours."
In support of inspiring young girls to play the guitar and to follow their passion, Daisy Rock donated the guitars for girls to play during the workshop. Alfred Music Publishing, co-owner and distributor of Daisy Rock Girl Guitars donated all of the sheet music for the course, including the [Girl's Guitar Method, the first guitar method written especially for girls, by Tish Ciravolo.
"It's always a pleasure to work with the Daisy Rock team," commented Jillian Jepsen, Education Manager for the Museum of Making Music. "Everything went great and everyone left very happy. Just think of all the girls who are now at home jamming on their new instrument!"
Daisy Rock Girl Guitars offers a complete line of quality girl guitars and basses. From their trademark "Slim & Narrow" neck profile to lightweight bodies, Daisy Rock Girl Guitars are designed to look and sound great, and to fit the female form. For more information, visit daisyrock.com.
Founded in 1998 by the National Association of Music Merchants (NAMM), the Museum of Making Music was developed to showcase and celebrate the music products industry. The Museum believes in broad-based educational programming, and providing accessible instructional experience to students of all ages and backgrounds. For more information and a list of events and exhibits, visit museumofmakingmusic.org.
ABOUT DAISY ROCK GIRL GUITARS
Daisy Rock Girl Guitars is the original girl guitar company dedicated to successfully supplying and marketing professional quality guitars for females of all ages. All Daisy Rock guitars are designed specifically for the female form and feature lightweight bodies, "Slim & Narrow" neck profiles to better fit smaller hands, and are available in inspiring finishes. Daisy Rock Girl Guitars' ongoing mission is to do whatever it takes to help girls play guitar and enjoy music.
Daisy Rock Girl Guitars is led by its Founder and President, Tish Ciravolo. Ciravolo is a highly acclaimed expert on female empowerment and females in music. Tish's expertise has been immortalized by her induction into the Museum of Making Music, the world's premier museum showcasing the history of the music products industry, and she is widely regarded as a visionary in the industry. Ciravolo's deep insight into the subject of girl guitars and female empowerment has made her a sought after and frequent contributor on national and international television, newspapers, magazines, websites, and radio programs including People, Time, Newsweek, CNN, ABC, NBC, FOX, VH1, the Premier Radio Network, BBC Radio, and the Associated Press. Daisy Rock Girl Guitars is in over 25 countries worldwide, and is co-owned and distributed by Alfred Music Publishing.
###