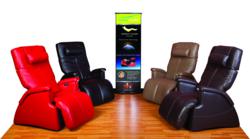 Las Vegas, NV (PRWEB) July 27, 2011
Human Touch®, the U.S. market leader of innovative massage chairs, Perfect Chair® Recliners, and other wellness solutions, will introduce its new Dream Studio™ to bedding and specialty sleep retailers at the 2011 Las Vegas World Market, Aug. 1-5. This new retail gallery program is designed specifically for bedding and specialty sleep retailers to maximize sales and profitability of Human Touch's award-winning Perfect Chair® collection.
"The Dream Studio™ features Human Touch's state-of-the-art, award-winning Perfect Chairs® and complete POP materials to ensure maximum sales success for bedding and specialty sleep retailers, and its entire retail display takes up only the size of a mattress allowing it to fit nicely into any bedding retail environment," said Billy Curtright, Director of Sales, Furniture & Specialty Sleep. "Our zero-gravity Perfect Chairs® are the perfect addition to any bedroom by providing consumers with a blend of beauty, ergonomics, comfort, and overall wellness for improved relaxation and sleep benefits."
The Dream Studio™ was offered as a small pilot program this spring and has been very positively received by bedding and specialty sleep retailers, such as Bedzzz Express, a bedding retailer with 36 locations throughout Alabama and Georgia.
According to Roger Hall, VP of Sales for Bedzzz Express, Birmingham, Ala., "We sell a lot of adjustable beds. Both our sales people and consumers understand how adjustable beds impact their sleep and overall lifestyle. The Perfect Chair® does the same exact thing. It's all of the same features and benefits, and our people love them."
The Human Touch® Dream Studio™ is a 120-square-foot space featuring two Transitional Perfect Chairs and two Serenity® PC-086 Perfect Chairs, each available in four different colors (black, espresso, cashew or red to blend in with virtually any décor), as well as complete Point-Of-Sale materials, including a 10x12-floor and double-sided, lighted floor sign. Details are below:

Transitional PC-085 Perfect Chair® (2 per studio): The Transitional Perfect Chair® is a zero-gravity recliner that artfully blends the best of aesthetics, technology and wellness in a seating experience that transcends even the highest standards of comfort. The electric recline system of the PC-085 recliner eases the body into a virtually weightless position, elevating the legs above the heart and relieving weight from the spine.
Serenity® PC-086 Perfect Chair® (2 per studio): The Serenity® Perfect Chair takes relaxation and wellness to a new level by providing a warming and gentle massage therapy experience using jade stones and Serenity® Wave Therapy technology. The jade stones radiate far infrared heat up to three inches into the muscle tissue to create healing warmth that can be felt long after leaving the chair.
POP materials and an introductory video to help consumers understand the wellness and sleep benefits of the Perfect Chair®.
Lighted display beacon and 120-square-foot wood floor.
Dr. James Rouse, N.D., Naturopathic Doctor and a member o f the Human Touch® Wellness Council, comments, "Surrendering into the Perfect Chair® sets a relaxed tone for a great night sleep, which is extremely important to one's overall health and wellness."
About Human Touch®
In pushing the boundaries of its traditional massage and zero-gravity chairs through advanced proprietary technology and innovation, Human Touch® is focused on infusing health and wellness into everyday lives through high-quality, design-oriented and award-winning wellness products and solutions. Human Touch® has been making people feel better™ for more than 30 years by developing state-of-the-art massage, zero-gravity and wellness products, as well as by providing valuable consumer education about the substantial health and wellness benefits of regular massage therapy, relaxation and proper posture. Stress relief, increased range of motion, pain relief, improved circulation and increased immunity are just some of the valuable health benefits associated with regular massage therapy. Human Touch® products are available at back care specialty stores, fine furniture stores across the country, through international retailers and distributors in more than 40 countries, as well as online at http://www.humantouch.com.
###