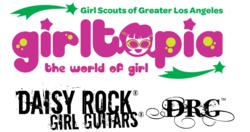 ...what a way to celebrate the Girls Scouts' 100th—a girltastic event celebrating our female leaders of today and empowering our young girl leaders of tomorrow!—honored to be a part of it!" ~Tish Ciravolo, President and Founder, Daisy Rock Girl Guitars
Los Angeles, CA (PRWEB) October 24, 2011
Daisy Rock Girl Guitars, the original girl-guitar company, is proud to take part in the official Los Angeles kickoff to the Girl Scouts' 100th Anniversary at Girltopia, an edutainment convention of girl-focused activities and fun. Girltopia will be held on Saturday, October 29, 2011, at the Los Angeles Convention Center.
Girltopia is the largest girl-targeted expo in the nation with more than 12,000 in attendance. Geared to inspire and empower girls of all ages, the event will feature interactive exhibits, entertainment, engaging speakers and workshops, and much more. Girltopia will also serve to introduce contemporary Girl Scouting to the growing girl population and reinforce the Girl Scouts' mission: Build girls of courage, confidence, and character, who make the world a better place. It is the goal of this event to reach thousands of girls for a full day of fun, adventure, and inspiration.
Daisy Rock Girl Guitar artist performances scheduled to grace the Girltopia Main Stage include The Sledge Grits Band and Manika, with an autograph signing session immediately following their performances. Daisy Rock's own President and Founder, Tish Ciravolo, will personally introduce each of the artists on stage and will host an up close and personal guitar show & tell corner, featuring various Daisy Rock Girl Guitar acoustic-electric models and finishes.
"Daisy Rock and the Girls Scouts share the vision of seeing young girls reach their full potential in whatever their passion might be," commented Ciravolo. "And, what a way to celebrate the Girls Scouts' 100th—a girltastic event celebrating our female leaders of today and empowering our young girl leaders of tomorrow!—I'm honored to be a part of it!"
Girltopia encourages girls of all ages to explore leadership, arts & culture, business smarts, environment & outdoor adventure, science, technology, engineering and math, and wellness & healthy living via interactive exhibits, entertainment, speakers, workshops, and other activities. For more information about Girltopia, visit girlscoutsla.org/pages/events/Girltopia.
Daisy Rock Girl Guitars offers a complete line of quality girl guitars and basses. From their trademark "Slim & Narrow" neck profile to lightweight bodies, Daisy Rock Girl Guitars are designed to look and sound great, and to fit the female form. For more information, visit daisyrock.com.
ABOUT DAISY ROCK GIRL GUITARS
Daisy Rock Girl Guitars is the original girl guitar company dedicated to successfully supplying and marketing professional quality guitars for females of all ages. All Daisy Rock guitars are designed specifically for the female form and feature lightweight bodies, "Slim & Narrow" neck profiles to better fit smaller hands, and are available in inspiring finishes. Daisy Rock Girl Guitars' ongoing mission is to do whatever it takes to help girls play guitar and enjoy music.
Daisy Rock Girl Guitars is led by its Founder and President, Tish Ciravolo. Ciravolo is a highly acclaimed expert on female empowerment and females in music. Tish's expertise has been immortalized by her induction into the Museum of Making Music, the world's premier museum showcasing the history of the music products industry, and she is widely regarded as a visionary in the industry. Ciravolo's deep insight into the subject of girl guitars and female empowerment has made her a sought after and frequent contributor on national and international television, newspapers, magazines, websites, and radio programs including People, Time, Newsweek, CNN, ABC, NBC, FOX, VH1, the Premier Radio Network, BBC Radio, and the Associated Press. Daisy Rock Girl Guitars is in over 25 countries worldwide, and is co-owned and distributed by Alfred Music Publishing.
###