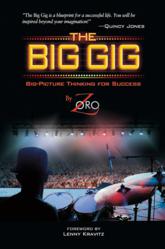 The Big Gig is a blueprint for a successful life. You will be inspired beyond your imagination!
–Quincy Jones
Los Angeles, CA (PRWEB) October 13, 2011
Internationally renowned rock musician Zoro transports fame from the stage onto the page in the highly anticipated book titled The Big Gig: Big-Picture Thinking for Success. This one-of-a-kind insider's guide to vocational, personal, and spiritual aspects of achievement is released by Alfred Music Publishing and available worldwide.
The Big Gig is an intriguing and comprehensive method for independent musicians who want to break into the highly competitive music industry. The Big Gig also is a metaphor for the big picture of life. Channeling music industry savvy, Zoro artfully offers readers keys to purposeful living, keeping it real, and following your vision without losing yourself. Every chapter in the 440-page book includes a video interview with Zoro, accessible via QR code (traditional web URLs are also provided). As an added bonus, readers can assess themselves with The Big Gig Quiz, a 50-question test to help determine if they have what it takes to score their own big gig.
A 22-chapter masterpiece of biblical proportions, The Big Gig is written from the perspective of Zoro's 30-plus-year career sitting on the drummer's throne commanding some of the most famous stages in the world of rock and R&B music. Zoro has toured and recorded with Lenny Kravitz, Bobby Brown, Frankie Valli and The Four Seasons, The New Edition, Jody Watley, Philip Bailey of Earth, Wind & Fire, Angie Stone, Vanessa Paradis, Sean Lennon, Lisa Marie Presley, and many others.
Often called the Minister of Groove, Zoro also authored the No. 1 award-winning and best-selling book and DVD package [The Commandments of R&B Drumming (Alfred). The Commandments of Early Rhythm & Blues Drumming–his second effort in collaboration with Daniel Glass–is another award-gathering musicians manual published by Alfred.
According to masters of the music business, Zoro has earned the credibility to inspire readers to aspire higher.
Grammy®-winning recording artist Lenny Kravitz writes in his foreword to The Big Gig: "Zoro's heart, discipline and passion are what propelled him to greatness. … His music and life lessons are about using your God-given talents to the maximum."
Multi-award winning producer and music icon Quincy Jones says of the book: "Filled with deep words of wisdom, The Big Gig is one of the most thorough, absorbing and insightful texts written on the art of being an artist that I have ever read. You will be inspired beyond your imagination, in a profoundly deep and meaningful way."
And Davey Johnstone, musical director and guitarist for Elton John, weighs in: "Because of his success and longevity as a player, author, educator, clinician and motivational speaker, Zoro is the only one I can think of who is legitimately qualified to cover the broad scope of this book with total authority. Zoro does an extraordinary job of merging the art of performing with the art of commerce and gives a blueprint for connecting heart, soul, mind and body to your craft and life's purpose."
In addition to Lenny, Quincy, and Davey, The Big Gig is endorsed by dozens of highly successful personalities ranging from Philippe Schaeffer, president of Rolex France, to actor Stephen Baldwin and New York Times bestselling author and Bible teacher, Joyce Meyer.
To view Zoro's welcome to The Big Gig, go to http://4wrd.it/A.PRBigGig
The Big Gig: Big-Picture Thinking for Success (00-37750) is now available for $19.99 at music retail stores and at alfred.com/TheBigGig.
REVIEW COPIES AVAILABLE UPON REQUEST
ABOUT ALFRED MUSIC PUBLISHING
Alfred Music Publishing is the world's largest educational music publisher. Alfred produces educational, reference, pop, and performance materials for teachers, students, professionals, and hobbyists spanning every musical instrument, style, and difficulty level. Alfred's home office is located in Los Angeles, with domestic offices in Miami and New York as well as offices around the world including Australia, Germany, Singapore, and the United Kingdom.
Since 1922, Alfred Music Publishing has been dedicated to helping people learn, teach, and play music. Alfred currently has over 90,000 active titles. Alfred represents a wide range of well-known publications—from methods like Alfred's Basic Guitar, Alfred's Basic Piano Library, Premier Piano Course, Sound Innovations, and Suzuki, to artists like Led Zeppelin, The Rolling Stones, Bruce Springsteen, Van Halen, Green Day, Michael Jackson, Sheryl Crow, Eagles, Cole Porter, and George and Ira Gershwin, to brands like Star Wars, Harry Potter, Lord of the Rings, Rolling Stone Magazine, and Billboard.
In addition to its own titles, Alfred distributes products from over 50 companies, including Belwin, Daisy Rock Girl Guitars, Dover Publications, DW Drums, Faber Music, Highland/Etling, Kalmus, National Guitar Workshop, Penguin, TASCAM, Ultimate Support, and WEA.
###