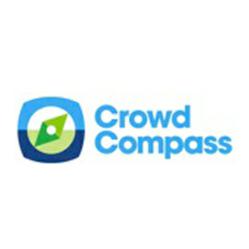 Portland, OR (PRWEB) December 09, 2011
CrowdCompass, the leading supplier of branded, native mobile apps for conferences and events, announced today that it has closed $1.3 million in venture capital funding in a Series A round led by the Oregon Angel Fund. The investment will be used to accelerate marketing and to complete development of the company's next-generation social-mobile technology for events.
The CrowdCompass solution, in production since 2010, gives event organizers the easiest and most affordable way to put all the information about their events on all major mobile devices. A rapidly growing portion of the 1.6 million events held each year is using mobile apps, and CrowdCompass is already producing these native mobile apps faster than other suppliers.
CrowdCompass apps give event organizers a powerful way to improve the attendee experience, drive additional revenue, and reduce printing costs. They are engaging, easy to use, branded for each specific event, and entirely native to each device platform. The CrowdCompass solution is highly scalable so the company can support the expected market growth from hundreds of apps in 2011 to hundreds of thousands of apps in 2012 and beyond.
The number of organizers using the CrowdCompass platform has grown 1,000% from 2010 to 2011. Several of the largest conferences of the year — including New York ComicCon, and the annual meetings of The American Society of Anesthesiologists and Lions Clubs International — have enhanced their attendees' experience with CrowdCompass apps.
CrowdCompass was founded in 2009 after Chief Technology Officer Dave Shanley was inspired while attending Bumbershoot, one of the largest music festivals in the world. The printed event guide dampened his experience because it was out of date and decomposed in the rain. It was clear that updated information on the performance schedule, maps to get around, and a directory of on-site vendors would be incredibly useful on the smartphones that everyone was using. Joined by co-founders Tom Kingsley and Brian Felder, Dave and the team quickly determined that native, branded apps were the best way to offer mobile capabilities to the $264.4 billion per year event industry.
According to CrowdCompass Chief Executive Officer, Tom Kingsley, "We've already achieved scalability and proven the business model with solid growth. Mobile devices have disrupted the personal computing paradigm by changing the way we interact with each other and the world. Events are inherently mobile and social, so mobile apps are perfectly suited to them. This investment will be used to complete development work on our next-generation technology that will offer exciting new ways for attendees to share their experience with their network – before, during, and after the event."
Scott Sandler, investor and diligence lead for the Oregon Angel Fund said, "The goal of the Oregon Angel Fund is to invest in the best four or five local startups each year. Mobile is hot, and we're privileged and delighted to have some of the leaders right here in Portland. CrowdCompass has latched on to a high-growth opportunity with apps for events, and we're convinced they're going to be a winner in the category."
About CrowdCompass
CrowdCompass – the leading Mobile Device Event Platform – develops and delivers innovative, native mobile apps for the global conference, event and trade show market. The company's native, branded apps dramatically improve attendees', exhibitors' and event managers' overall experiences to help drive revenue for event organizers and exhibitors and produce better-connected, more sustainable events.
CrowdCompass is privately held and is headquartered in Portland, Oregon's innovative Eastside Industrial District. For more information, visit http://www.crowdcompass.com.
About Oregon Angel Fund (OAF)
Founded in 2007, OAF is a highly structured, professionally managed, investor-driven venture fund backed by the leaders of Oregon's business and technology community and the Oregon Growth Account. OAF invests some $3 million annually in the most promising startups and early-stage growth companies in Oregon and SW Washington. The Fund's managers and investors play an active role in advising and growing the 22 companies backed to date. The companies in the portfolio have created over 500 jobs. For more information, visit http://www.OregonAngelFund.com.
Tweet this: @CrowdCompass closes $1.3 million Series A funding for development of next-generation social-mobile technology for events bit.ly/uAE3cc
Supporting Resources
For more information visit: CrowdCompass
Like us on Facebook: CrowdCompass
Follow us on Twitter: @CrowdCompass
Find us on LinkedIn: [CrowdCompass-Inc.
Contact:
Cate Millar
GamePlan
503-781-9966
cate(at)gameplan(dot)nu
# # #