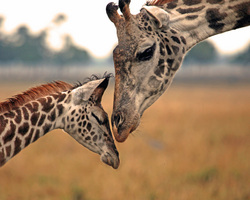 New York, NY (PRWEB) April 14, 2011
Luxury safari operator Micato Safaris (http://www.micato.com) recently announced the winners of its inaugural Photo Contest. Recognizing that many of the photos taken by its travelers were worth sharing, Micato guests were invited to submit their favorite safari photographs over the past year.
Grand Prize Winners George and Jane Diamantis from McDonald, Tennessee who traveled on Micato's Stanley Wing safari in 2009 were awarded $3,000 to be used either in Micato's online Safari Shop or towards future travel. "This photo was just one of many incredible experiences we had while on safari," states Jane Diamantis. "Our entire trip was made up of magical moments."
First runner-up Jessica Opfer, of Rochester, Michigan, inspired by the life-changing work of AmericaShare, Micato's nonprofit organization (http://www.americashare.org), asked that her $1,000 winnings be donated to help support AmericaShare's projects that provide education and tools for sustainable living to women and children living with HIV/AIDS in Nairobi's Mukuru slum.
Selected submissions included a stunning aerial landscape taken from a hot air balloon, a pair of lions mid-roar, and a cheetah family enjoying their vantage point atop a boulder. To enter the contest or peruse the winning photos, please visit http://www.micato.com/photo-contest/.
For more information or to book a safari, visit http://www.micato.com or call 1-800-MICATO-1.
About Micato Safaris
Jane and Felix Pinto founded Micato Safaris in Kenya in 1966, and the company has been providing the most luxurious and personalized African safaris and tours of India to sophisticated travelers ever since. Winning the coveted Travel + Leisure "World's Best Tour Operator & Safari Outfitter" award for an unprecedented seven years, Micato prides itself on providing exceptional service throughout every stage of the tour experience.
###