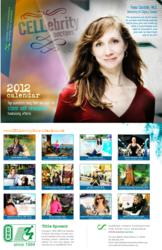 It's all about women, each of whom is a beautiful, successful, intelligent, female role model in science and in life
Miami Beach, FL (PRWEB) December 15, 2011
Today the Sabrina Cohen Foundation for Stem Cell Research (SCF) proudly announced the formal launch of its 2012 CELLebrity Campaign and the second edition of its "CELLebrity" Doctors Calendar.
"In 2011 the calendar campaign was all men," says SCF founder and stem cell research advocate, Sabrina Cohen, "but this time around it's all about women, each of whom is a beautiful, successful, intelligent, female role model in science and in life."
"We have thoroughly enjoyed getting to know these women as people and enjoy the opportunity to share that with people both in the stem cell field and the general public as a way to raise awareness and all-important funds," summarizes Sabrina.
Designed to raise public awareness about stem cell research, the 2012 Calendar of "CELLebrity" Doctors captures some of the leading females in science around the world involved in advancing stem cell research, from the United States, Canada, Australia and Europe.
"The Foundation is proud to shed light on their efforts in various disciplines of regenerative medicine", says Sabrina, "by profiling these highly accomplished professional women outside of the lab in their personal comfort zones."
"As a sponsor of Sabrina's campaign, we urge everyone to get a copy – several copies – of the 2012 "CELLebrity" Doctors Calendar and hang it proudly," says Lee Buckler, industry blogger, consultant, analyst and Managing Director of RegenerativeMedicineJobs.com. "Spread the word and encourage everyone to support the project by buying a copy from http://www.CELLebritydocscalendar.com."
The 'CELLebrity' Doctors Calendar
The 2012 CELLebrity Doctors calendar is now available for purchase from http://www.CELLebrityDocsCalendar.com. All proceeds from calendar sales benefit the Sabrina Cohen Foundation for Stem Cell Research, a 501c3 non-profit organization directly funding stem cell clinical research.
The women featured in this year's calendar are:

Susan Majka, PhD, University of Colorado Cancer Center
Cynthia Bamdad, Ph.D., Minerva Biotechnologies Corp., Massachusetts
Laura Perin, PhD, University of Southern California
Sharon D. Ricardo, PhD, Monash University, Australia
Julie G. Allickson, PhD, Cryo-Cell International Inc., FL
Fabrisia Ambrosio, PhD, MPT, University of Pittsburgh
Jennifer Willert, MD, Rady Childrens Hospital, San Diego
Ivonne Hernandez Schulman, MD, University of Miami Miller School of Medicine
Katarina Le Blanc, MD, PhD, Karolinska Institutet, Stockholm, Sweden
Fiona Costello, MD, University of Calgary
Angela Panoskaltsis-Mortari, Ph.D., D (ABMLI), University of Minnesota
Maria Konovalenko, M.S., Science for Life Extension Foundation, Program Coordinator
If you or your organization can help promote the calendar as a supporting partner, please contact SCF.
The Sabrina Cohen Foundation
The Sabrina Cohen Foundation for Stem Cell Research (SCF) is an internationally recognized nonprofit organization dedicated to building a global network of top scientists and clinicians in the field of Regenerative Medicine, while simultaneously funding cutting edge research and innovative therapies that will reverse spinal cord injury and effectively treat other impairments of the Central Nervous System.
Sabrina Cohen is the Executive Director and President of the foundation. She graduated from the University of Miami with a degree in Communications, double majoring in Advertising and Psychology, and holds a post-graduate degree in Copywriting from the Miami Ad School. She is a C5 Quadriplegic, as the result of a spinal cord injury from a car accident in 1992. In 2006, she established SCF to raise funds for research because she believes the field of Regenerative Medicine will lead to the greatest advances of our time. Sabrina is a Motivational Speaker & Spokesperson continuously speaking in schools, universities and community centers. She has spoken at scientific conferences around the country, including the "World Stem Cell Summit" at the University of Wisconsin, Harvard University, Stanford University, Baylor College of Medicine at the University of Texas, and at the United Nations. Sabrina believes her wheelchair is a vehicle to promote change.
Sabrina Cohen was recognized by WebMD Magazine as a 2009 "American Health Hero". Sabrina is currently available for interviews highlighting the 2012 "CELLebrity" Doctors Calendar.
###