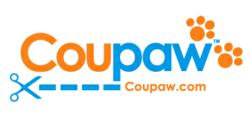 Our website has received rave reviews from users and has seen tremendous growth on a month-by-month basis...
New York, New York (PRWEB) November 09, 2011
Coupaw.com, an innovative website that offers users great daily deals on pet services and products, has become an instant hit with pet owners across the United States.
With tens of thousands of users viewing Coupaw's deals weekly, business owners in the pet care industry are finding it easier than ever to connect with new customers. Organizations offering a daily deal have the opportunity to introduce their products and services to consumers, often developing long-term customers in the process.
"When we launched the site in August, we knew that there was great potential to reach out to the over 70 million homes in the U.S. who have pets," said Jared Katz, Vice President of Sales for Coupaw.com. "Our website has received rave reviews from users and has seen tremendous growth on a month-by-month basis."
The website's success is based in the fact that pet owners tend to be very loyal to their pets and are highly interested in finding products or services that they like and can depend on. Thus, if a company impresses pet owners with its offerings, a large percentage of those individuals are likely to be returning customers.
Coupaw.com, a division of FamilyPet.com, offers users in metro areas a wide variety of pet service deals, including significant savings on professional dog walking, pet waste removal, pet sitting, grooming, doggie daycare, pet boarding and more. In many cases, the deals are good for up to half off and are redeemable for pet products, supplies, clothes, accessories, gifts and more at local or online stores. Coupaw's goal is to introduce pet owners to the best pet businesses and products all across North America.
"Coupaw.com is a great way for pet businesses to connect with pet owners in whole new ways," said Kevin Masterson, Chief Technology Officer. "By offering daily deals to introduce users to your products, you can demonstrate your value first-hand and earn customers for life."
In the coming months, Coupaw.com will offer users more outstanding deals for national pet retailers and online boutiques that will allow them to find the perfect gifts for the holiday season.
About FamilyPet.com:
FamilyPet.com is the leading strategic marketing company within the pet industry, providing great value to both pet businesses and pet owners across North America. The network, which includes Petsitting.com, Coupaw.com, Localdogwalker.com and more, focuses on providing a resourceful and convenient destination for pet owners looking for high-quality pet care services, products and insurance. To learn more, visit http://www.FamilyPet.com.
# # #