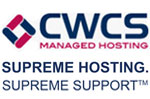 Client data protection is paramount to CWCS, which is why we chose a reputable and demonstrably reliable backup and disaster recovery solution.
Nottingham, England (PRWEB) September 07, 2011
CWCS Managed Hosting, an award-winning UK-based provider, today announced plans to offer fully-managed and self-managed offsite backups featuring R1Soft's Continuous Data Protection® (CDP) technology for Windows and Linux.
R1Soft CDP software is unique in its ability to bypass the file system, read data at the sector level, and create point-in-time images. By only recording changes since the last backup during disk sector synchronization, there is no interruption to current server requests.
Flexible and robust, R1Soft CDP backups can be instantly deployed, securing CWCS clients' critical data in secure, offsite backups. In the unfortunate event of a disaster, R1Soft's high-performance data recovery technology, Bare-Metal Restore (BMR), omits the OS reinstallation step to rapidly restore large file systems. Users will also benefit from the convenience of single file restores that can be performed simultaneously.
For CWCS clients who prefer autonomous backups, a user-friendly Web interface lets end-users browse their backups to download replicated files as an archive or restore from them on demand.
"Client data protection is paramount to CWCS, which is why we chose a reputable and demonstrably reliable backup and disaster recovery solution. R1Soft's ongoing technical support is also of great importance, helping CWCS to ensure a smooth backup system implementation and client assistance," said Karl Mendez, chief executive officer of CWCS Managed Hosting.
CDP backups will be included as an add-on backup service for managed hosting. For more information on CWCS offsite backups, please visit http://www.cwcs.co.uk/offsite-backups.
"As CWCS has found, R1Soft CDP is the answer to any company's remote backup needs. The software is built to be a complete performance and recovery system as it efficiently stores unique disk blocks only once, minimizing storage bandwidth usage," said Domingo Martinez, global marketing manager for R1Soft, a division of BBS Technologies.
About CWCS Managed Hosting
CWCS Managed Hosting is an award winning hosting company offering web hosting, cloud hosting and dedicated servers to businesses worldwide. With over 10 years of experience, the UK-based CWCS provides first-class, reliable services and technical excellence to ensure clients' online success. CWCS hosts and manages websites and client data in the company's privately owned, state-of-the-art UK data centres.
About R1Soft
R1Soft is the developer of Continuous Data Protection® (CDP), scalable and high-performance backup software for Windows and Linux servers in the cloud. Recognized as the leading commercial backup software in hosted services, R1Soft CDP is currently used by over 1,000 cloud infrastructure providers and protects more than 200,000 servers worldwide. R1Soft is a division of BBS Technologies.
###