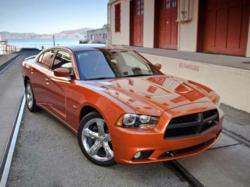 The car has a real presence that sets it apart from typical sedans with clear '70s styling influences.
Torrance, CA (PRWEB) July 28, 2011
Dodge is making a comeback in 2011, an entire range of new and updated products, led by the flagship Charger sedan. autoMedia.com, a premier provider of quality automotive content, is putting the new 2011 Dodge Charger to the test with a thorough 60-day evaluation and reporting back to consumers with the results.
The test vehicle is a Charger Rally Plus, which includes a long list of features, a V6 engine and rear-wheel drive. The automotive experts from autoMedia.com are taking the Charger sedan on a two-month journey to see what it's like to live with day-to-day. The vehicle will be driven daily under normal road conditions, taking it through the same scenarios everyday consumers encounter. The test will reveal how the 2011 Charger stacks up against the competition and whether the revitalized design update is compelling enough to convince buyers to take a second look.
Consumers can view the video footage describing in more detail the freshened design updates to the Charger, including a full-color touch screen radio display, at autoMedia.com.
"The 2011 Charger definitely makes a positive first impression," noted Jeff Karr, editor-in-chief for autoMedia.com. "The car has a real presence that sets it apart from typical sedans with clear '70s styling influences. The look is retro inspired, but the fit and finish and quality of materials certainly isn't."
Also sharing some of his first reactions is Sam Hubinette, technical editor for autoMedia.com, "The Charger comes off as aggressive and distinctive – it's the sedan for people that can't stand bland."
Consumers will be able to check back to find out if impressions are still as favorable after a couple of months of living with the 2011 Dodge Charger.
autoMedia.com was launched in September 2000 by a team of automotive editorial, design, and publishing professionals with the goal to be the premier provider of quality automotive content on and for the Web. Today it boasts over 92,500 pages of original articles, including over 2,500 features researched and written by leading automotive experts, covering new and used car buying, new vehicle previews, road test reviews, car care maintenance, professional driving advice, and technology. Automotive enthusiasts and new car shoppers can read about the latest industry news, pricing, rebates and incentives, view photo galleries and research details on all makes and models. For "automotive advice you can trust," before you buy a car, visit http://www.automedia.com.
# # #