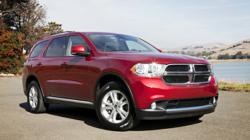 "Dodge has been going through great lengths to improve the look and feel of this brand, and clearly, can now compete with the best in class."
Torrance, CA (PRWEB) July 20, 2011
After skipping a year of production, Dodge is back with a completely new 2011 Durango, a total redesign from the ground up. autoMedia.com, a premier provider of quality automotive content, is putting the new 2011 Dodge Durango to the test with a thorough 60-day evaluation and reporting back to consumers with the results.
Automotive experts from autoMedia.com are set to take the new Durango on a two-month journey and see what it's like to live with day-to-day. The test vehicle, a Durango Crew all-wheel drive with the CrewLux package and a V6 engine, will be driven daily under normal road conditions, taking it through the same scenarios everyday consumers encounter. The test will reveal how the new 2011 Durango stacks up against the competition and whether the new design features are compelling enough to convince buyers to take a second look. Consumers can view the video footage describing in more detail the actual design updates to the new Durango at automedia.com.
"Although we are just getting started with the Durango, we are impressed," noted Jeff Karr, editor-in-chief for autoMedia.com. "Dodge has been going through great lengths to improve the look and feel of this brand, and clearly, can now compete with the best in class."
Also sharing some of his first reactions is Sam Hubinette, technical editor for autoMedia.com, "Our initial testing indicates that Dodge succeeded with their design goal of raising the bar in terms of on-road handling and ride comfort."
Consumers will be able to check back to find out if impressions are still as favorable after a couple of months living with the 2011 Dodge Durango.
autoMedia.com was launched in September 2000 by a team of automotive editorial, design, and publishing professionals with the goal to be the premier provider of quality automotive content on and for the Web. Today it boasts over 92,500 pages of original articles, including over 2,500 features researched and written by leading automotive experts, covering new and used car buying, new vehicle previews, road test reviews, car care maintenance, professional driving advice, and technology. Automotive enthusiasts and new car shoppers can read about the latest industry news, pricing, rebates and incentives, view photo galleries and research details on all makes and models. For "automotive advice you can trust," before you buy a car, visit autoMedia.com.
# # #