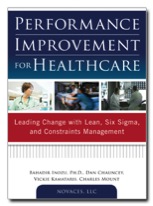 New Orleans, LA (PRWEB) November 22, 2011
"The Picture of Healthcare" is the theme of this year's Institute for Healthcare Improvement's 23rd Annual National Forum on Quality Improvement in Health Care. This theme serves as recognition of the impact that federal healthcare reform will have on the existing picture of U.S. healthcare. During the Forum, there will be a Special Interest Breakfast Presentation that will highlight the management methods that best prepare healthcare leaders to negotiate the transformative changes needed to achieve the future picture of U.S. healthcare. The presentation centers around the new book "Performance Improvement for Health Care: Leading Change with Lean, Six Sigma, and Constraints Management."
The breakfast presentation on Wednesday, December 7 from 7:00-7:45 AM at the IHI's National Forum will be led by author Bahadir Inozu, Ph.D. and Robert Halder, MD, Rear Admiral, US Navy (Ret), who wrote the foreword for the book.
The presentation is designed for healthcare leaders who are interested in learning how process improvement methods can be used to achieve strategies for improving the patient experience, reducing the cost of care, exceeding benchmarks for quality measures, preparing for Value Based Purchasing, and meeting Meaningful Use goals.
At a time when the industry is undergoing unprecedented change, methods like Lean healthcare and Six Sigma for hospitals have received significant press attention due to the improvements in quality and efficiency that they have produced in hospitals, health systems, healthcare clinics and long term care facilities.
Dr. Inozu believes that these initiatives need a systems perspective to focus efforts on the most important priorities for the organization. A method called Constraints Management has the toolset to create this focus for a leadership team and break difficult organizational constraints that prevent transformation from occurring.
When asked why healthcare leaders should implement this method, Dr. Inozu commented, "Constraints Management is a 'force multiplier' for healthcare Lean Six Sigma deployments and will exponentially expand the impact of process improvement and its return-on-investment in such complex organizations."
Inozu plans a book signing after the Special Interest Presentation at the National Forum bookstore between 9:00 and 9:30 AM.
About the Book
Performance Improvement for Healthcare: Leading Change with Lean, Six Sigma, and Constraints Management offers the "best of breed" integration of performance improvement approaches in terms of impacting patient experience, financial viability, and employee satisfaction.
While the goal is to improve performance across all aspects of the organization, the path is through identifying processes that are not meeting expectations—and fixing them. Unlike "one size fits all" approaches, such as Lean only or Six Sigma only, the approach in this book integrates three main methodologies – Lean Six Sigma, Six Sigma, and Theory of Constraints (TOC) – by focusing on what is critical to the organization. By using the right tool for the right problem at the right time, the authors show how to deliver faster results and greater return on investment.
About Bahadir Inozu, Ph.D.
Bahadir Inozu is a founding partner and Chief Executive Officer of NOVACES, a leading provider of continuous process improvement consulting and training services to the healthcare industry. He is a Lean Six Sigma Master Black Belt and a Theory of Constraints Jonah. He has over 20 years of performance improvement experience in Government, Healthcare, Maritime and MRO industries.
About Robert Halder, MD, Rear Admiral, US Navy (Ret)
Bob Halder, MD is the Executive Medical Consultant for NOVACES. As Commanding Officer of the Navy's largest hospital and initial member of the Harvard National Demonstration Project, led by Dr. Donald Berwick, he paved the way for the implementation of Total Quality Leadership throughout Navy Medicine. He subsequently served as SeniorVP, Juran Institute, and guided the developement of the initial accreditation standards for continuous process improvement for the Joint Commission.
###