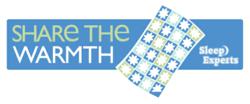 A blanket can be the first step in helping to create a sense of home that these children have often lacked throughout their lives.
Dallas, TX (PRWEB) November 03, 2011
Texas mattress retailer Sleep Experts announces the 8th annual Share the Warmth Blanket Drive and asks North Texas families to drop off new or gently used blankets at any of the company's 35 store locations, now through Thanksgiving. This year Sleep Experts welcomes the Girl Scouts of Northeast Texas, whose troops will be collecting blankets in their communities. Items collected during the Blanket Drive will be donated to Family Gateway, a non-profit organization that helps homeless families become self-sufficient.
According to Robert Alberts, executive director of Family Gateway, family homelessness is a silent epidemic affecting thousands of children in Dallas County. In fact, families with children are the fastest growing homeless group.
"Homeless children and families have often lost most of their possessions and need help to rebuild their lives," said Alberts. "A blanket can be the first step in helping to create a sense of home, comfort and stability that these children have often lacked throughout their lives."
Colleen Walker, Chief Executive Officer of Girl Scouts of Northeast Texas added, "Many people don't know that Girl Scouts of Northeast Texas provides the "Gift of Girl Scouting" to more than 4,000 girls each year through programming supported by community partners. Each fall, our Girl Scouts help their very own sisters by donating warm clothing to girls in our under-served areas. We are thrilled to expand our outreach in the community through this partnership with Sleep Experts."
"The holidays are a season for giving, and we ask the North Texas community to give the simple gift of warmth and comfort to children and their families at Family Gateway," said Christine Cook, wife, mom and president of Sleep Experts. "This year we are grateful for the additional volunteer efforts of the Girl Scouts, an organization known for its strong commitment to community service."
In addition to blankets, Sleep Experts accepts donations of other comfort items including sheets, pillows, comforters and towels. For a list of store locations and maps visit http://www.sleepexperts.com/stores/all-stores/.
About Family Gateway
Family Gateway provides transitional housing and comprehensive services to homeless families with children, empowering them to regain self-sufficiency. These services include transitional and permanent supportive housing, life skills classes, job training, employment search and placement assistance, community transition services and comprehensive youth programs and services. Since 1986, Family Gateway has served 4,537 families and over 9,000 children. For more information on how to give hope to homeless families, visit familygateway.org.
About Girl Scouts of Northeast Texas
Girl Scouts is the premiere leadership organization and is the largest pipeline for female leadership. Girl Scouting builds girls of courage, confidence and character, who make the world a better place. Girl Scouts of Northeast Texas serves nearly 35,000 girls and 17,000 adults in 32 northeast Texas counties. For information on how to join, volunteer, donate or reconnect to the Girl Scouts of Northeast Texas, call (800) 442-2260 or visit gsnetx.org or amazinggirl.org.
About Sleep Experts
Sleep Experts, a mattress retailer with 35 North Texas locations, offers a broad selection of innerspring mattresses, foam mattresses and air mattresses, with brands including Tempur-Pedic, ComforPedic, Simmons, Beautyrest, Laura Ashley, Sleep Designs, Dr. Breus, and Comfortaire. The company's mission is to exceed customers' expectations, and it backs this pledge with a One Year Love Your Mattress Guarantee™. Recent accolades include the Dallas Business Ethics Award, five consecutive Consumers' Choice Awards®, and top workplace awards from both Dallas Business Journal and The Dallas Morning News. Sleep Experts shares the gift of sleep with families in need by donating customers' old mattresses to D-FW non-profit organizations. For more information, visit sleepexperts.com or call (888) 55-SLEEP.
###