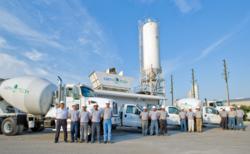 For the first time, homeowners can be certain they're getting their sinkhole problem solved.
Tampa, Florida (PRWEB) September 22, 2011
Earth Tech, LLC (http://www.floridasinkhole.com) announced that all its future residential sinkhole stabilization projects will be guaranteed by the world's first sinkhole stabilization warranty backed by a third party. Specifically, Earth Tech's work will be backed by the largest specialty insurance company in the world.
"Homeowners facing sinkhole damage—and their insurers—should be certain that the company hired is accountable for correcting identified sinkhole damage. Our warranty will be in effect for a full five years after the stabilization work is complete," said Ron Broadrick, President of Earth Tech, a business he started with his father Lewis in Land O' Lakes, Florida. "Homeowners can be completely assured of the quality of our work well into the future, and this assurance comes at no additional cost."
"No other soil stabilization company has ever offered such a warranty or had the backing of such a dependable third party. We were able to obtain this unique backing because of our longstanding track record of quality home stabilizations. Florida sinkholes are a continuing problem. We've stabilized more homes in Florida than anyone else over the past twenty years," said Broadrick. "For the first time, homeowners can be certain they're getting their sinkhole problem solved."
"Other stabilization companies may offer a warranty, but they might not be in business down the road to stand behind the work. Earth Tech's warranty is independently guaranteed, joining the resources of a stabilization industry leader with a giant in the insurance business," said Broadrick.
About Earth Tech
Earth Tech, LLC is the largest residential foundation and soil stabilization company in the Southeast. Headquartered in Land O' Lakes, Florida, Earth Tech is a multi-generational family business whose success stems from combining visionary leadership and industry experience with a team of engineering, project management and customer service professionals. Earth Tech has expanded from its Tampa Bay roots to serve businesses and homeowners throughout the United States. Earth Tech has one of the most experienced management teams in the geotechnical construction field. The company produces much of the hardware and specialized machinery it uses, surpassing industry quality standards. Earth Tech also owns its own grout production facility to help ensure projects are completed timely. The foundation and soil stabilization services offered by Earth Tech include compaction grouting, chemical grouting, cement grouting, steel piering, anchors and tiebacks, ductile piles, jet grouting, minipiles, pressure grouting, soil mixing, soil nails, stone columns, under pinning, vibro compaction and vibro replacement. Sinkhole issues are very common in Florida, striking areas such as Pasco, Hernando, Hillsborough, Citrus, Pinellas and Polk Counties.
Media Contacts
Richard Hayes, President, Digital Lightbridge (727) 863-7806 (C)
John Costello, Marketing Manager, Earth Tech (813) 917-1280 (C)
###