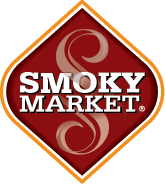 Tantalizing smoked flavor. Portion-packaged convenience.
Webster City, IA USA (PRWEB) November 22, 2011
Smoky Market Foods, Inc. (SMKY) announces the new relationship with SYSCO Foodservice of Iowa for exclusive product brokering and distribution for the state. The objective of this campaign is to develop distribution of Smoky Market products through all SYSCO divisions nationwide. "The executive chef and staff loved the unique quality of our Smoke-Baked salmon and bought our program on the spot. We shipped their initial order on November 10th and presented our program to all their Iowa reps at their holiday sales event on November 11th and cases of Smoky Market salmon are beginning to be sold," stated Eddie Feintech, CEO of Smoky Market Foods, Inc. Smoky Market Foods, Inc. (SMKY) who was recently recognized by Hollywood Industry Digital Media Network for their entrance into the world marketplace was also identified by IntraFish, a world leader in the Seafood Industry News and Events, as pioneering one of the most significant advances in smoked fish and seafood preparation with their USDA approved wood-smoking oven system that "Smoke-BakesTM" the highest quality meat and fish without any additives, sugars, salts, or preservatives.
The company can grow its revenue cash flow and become solidly profitable through success with wholesale distribution from production capacity of its existing smoker-oven system. Said Mr. Feintech, "We can support several additional SYSCO companies with our existing capacity, which will greatly facilitate the sale of our Preferred Stock offering to finance more ovens for expansion of sales on a national and international basis, to include distribution into Canada." In addition Smoky Market will be adding a Kosher division plus other proteins and meats to introduce their products to even a larger receptive audience.
Smoky Market Foods, Inc. is a producer and distributor of a complete line of real Smoke-Baked™ foods that are prepared authentically using a unique wood-burning oven system, and sold under the brand name of Smoky Market®. Because of its proprietary wood-burning oven technology, which burns freshly-cut hickory and apple timber to impart a genuine smoky flavor, the company's Smoke-Baked meat and fish are truly prepared the old-fashioned way, without the use of any additives or chemical preservatives. This aspect of quality wholesomeness in prepared food processing is a market niche feature. Smoky Market Foods, Inc. intends to build national brand distribution for its smoked foods through multiple channels of marketing that include wholesale and retail distribution, and through development of a chain of BarBQ Diner modular restaurants that do not cook raw food on site.
For more information or an interview with Ed Feintech, Smoky Market Foods, Inc. (SMKY) please email or call for scheduling:
efeintech(at)smokymarket(dot)com
http://www.smokymarket.com
http://www.smkycorp.com
buysmoked(at)smokymarket(dot)com
Phone: 866.851.7787
Fax: 866.567.0829
Smoky Market Foods, Inc. (SMKY) Tantalizing smoked flavor. Portion-packaged convenience.
Copyright © 2011 All rights reserved.
PR: http://www.MassMedia77.com
Safe Harbor Statement
This report includes forward-looking statements covered by the Private Securities Litigation Reform Act of 1995. Because such statements deal with future events, they are subject to various risks and uncertainties and actual results for fiscal year 2010 and beyond could differ materially from the Company's current expectations.
Forward-looking statements are identified by words such as "anticipates," "projects," "expects," "plans," "intends," "believes," "estimates," "targets," and other similar expressions that indicate trends and future events.
Factors that could cause the Company's results to differ materially from those expressed in forward-looking statements include, without limitation, variation in demand and acceptance of the Company's products and services, the frequency, magnitude and timing of paper and other raw-material-price changes, general business and economic conditions beyond the Company's control, timing of the completion and integration of acquisitions, the consequences of competitive factors in the marketplace including the ability to attract and retain customers, results of the MyC3 initiative and other cost-containment strategies, and the Company's success in attracting and retaining key personnel. Additional information concerning factors that could cause actual results to differ materially from those projected is contained in the Company's filing with The Securities and Exchange Commission. The Company undertakes no obligation to revise or update forward-looking statements as a result of new information since these statements may no longer be accurate or timely.
Analysts' Compensation: Mass Media 77, Inc. who in part or in whole may be responsible for the preparation of this report may receive compensation based upon various factors, including the quality and accuracy of research, client feedback, competitive factors, and overall firm revenues, which include revenues from, among other business units, Institutional Equities and Investment Banking and restricted stock.
Information has been obtained from sources believed to be reliable but Mass Media 77, Inc or its affiliates and/or subsidiaries (collectively Mass Media 77, Inc.) do not warrant its completeness or accuracy. Opinions and estimates constitute our judgment as of the date of this material and are subject to change without notice. Past performance is not indicative of future results. This material is not intended as an offer or solicitation for the purchase or sale of any financial instrument. The opinions and recommendations herein do not take into account individual client circumstances, objectives, or needs and are not intended as recommendations of particular securities, financial instruments or strategies to particular clients. The recipient of this report must make its own independent decisions regarding any securities or financial instruments mentioned herein. Periodic updates may be provided on companies/industries based on company specific developments or announcements, market conditions or any other publicly available information. Additional information may be available upon request.
# # #