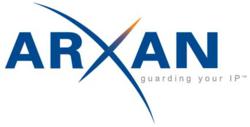 Bethesda, Md. (PRWEB) September 15, 2011
Arxan Technologies, a leading provider of software security solutions that protect applications from attack in distributed or un-trusted environments, today announced at the Tokyo Game Show 2011 (TGS 2011) enhanced security and greater ease of deployment for its EnsureIT® product suite, which protects mobile gaming software platforms and associated digital rights management (DRM) systems against growing software threats.
Many of the top game publishers and studios rely on Arxan's Software Protection Suite consisting of EnsureIT , GuardIT®, and TransformIT™, to preserve game integrity across multiple platforms including mobile, desktop and server environments. At the show, Arxan is launching several new product enhancements to specifically address the security needs of mobile gaming applications.
The mobile gaming sector is experiencing tremendous growth. According to a study by Pyramid Research, the global mobile gaming market is expected to reach $18 billion by 2014, up from $6.9 billion in 2008. Such growth represents new opportunities for hackers and malfeasants to tamper with software elements of gaming such as access controls and associated revenue streams, to steal unique content or intellectual property (IP) and compromise game code integrity.
To mitigate these threats, Arxan has extended its mobile/embedded software security product, EnsureIT, to encompass additional game protection requirements unique to mobile platforms. The enhanced protection allows game developers to easily implement static and dynamic guarding techniques which are essential for today's performance-centric mobile gaming applications. Additionally, EnsureIT delivers increased protection for static libraries, with a specific focus on protecting those which reside on mobile devices and communicate with servers. As static libraries are delivered to partners and integrators across the ecosystem, this higher level of security brings greater assurance to all the stakeholders in the process. Specifically, mobile game software can now be protected before delivery to downstream partners for further integration.
Ease of deployment is also featured in this launch as mobile game protection can now be completed by the final game publishing entity. This flexibility to run the finalizer as part of the last step prior to the game being deployed ensures the strongest protection scheme possible.
"As the mobile market continues to grow as a platform for a host of entertainment and multimedia applications, Arxan understands the inherent and specific security requirements of its customers. The fact that EnsureIT doesn't impact the game developers' source code has always been a huge operational benefit, now these enhancements make it easier on the deployment side as well. The enhancements to EnsureIT provide greater risk assurance in the face of growing software threats," said Vince Arneja, vice president of product management, Arxan. "As the mobile gaming space realizes continued global growth, games studios and publishers need more flexibility to deliver to and integrate with a range of partners and complex build environments and tool chains. Arxan's latest release of EnsureIT now allows for this."
To schedule a meeting with the Arxan team at the Tokyo Game Show 2011, please contact Jodi Wadhwa at 1-703-407-6688 or jwadhwa(at)arxan(dot)com.
To protect both game clients and servers, Arxan's application hardening and key hiding protection solutions shield against tampering and reverse-engineering of code and IP in a durable and proven manner which does not impact source code, application functioning or the development process. Its layered, self-protecting security techniques eliminate any single point of failure, while allowing easy renewability and resilience of security schemes in response to attempted attacks.
Arxan is a member of the PC Gaming Alliance (PCGA), and provides industry expertise on the anti-piracy sub-committee. Most recently, Arxan participated in the development of the PCGA security best practices whitepaper.
About Arxan Technologies
Arxan Technologies Inc. is a leading provider of software security solutions that protect applications from attack in distributed or un-trusted environments. We harden applications against tampering and reverse engineering for unauthorized use, piracy, and theft of intellectual property. Our advanced software protection solutions secure ISV, digital media providers' and enterprise applications to proactively defend the integrity of code and business models. We defend, detect, alert and react to attacks through a threat-based, customizable approach. Proven, durable and resilient, Arxan's offerings support a full range of application protection needs, from commercial software to military grade assurance. Founded in 2001, Arxan Technologies has offices in Bethesda, MD, San Francisco, CA and West Lafayette, IN. For more information, please visit http://www.arxan.com.
###