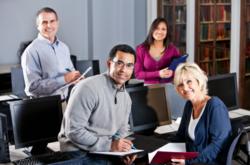 The adult financial literacy course answers many of the questions people have and helps participants feel an instant boost in their financial confidence.
Dallas, TX (PRWEB) December 15, 2011
The National Financial Educators Council (NFEC) announces the development of a custom adult financial literacy program to help the Salvation Army Dallas improve its clients' financial situations.
The money management program, based on the NFEC's Financial Recovery Course, was custom-adapted to suit the unique needs of Salvation Army Dallas clients. Coursework includes adult financial literacy curriculum, student guides, presentations, and a comprehensive educator training program. The NFEC also awarded Salvation Army DFW Metroplex a financial literacy grant donation of the Financial Recovery Course Virtual Learning Center.
Four members of the Salvation Army staff successfully completed the financial education instructor training to earn the NFEC's Certified Financial Education Instructor (CFEI) status. The instructor training program emphasizes practical application of financial literacy topics, and is delivered in a format aligned with national financial education standards. The newly-certified Dallas staff report feeling confident and prepared to deliver the presentation to their public.
The current economic environment has increased the number of people needing Salvation Army Dallas services. As Vince Shorb, CMO of the NFEC commented, "The NFEC commends Salvation Army Dallas for their efforts to help people overcome short-term financial needs and pick up the skills to make a lasting difference in the lives of those they reach."
The customized adult financial literacy program allows Salvation Army DFW Metroplex to help participants proactively address their financial concerns using hands-on, applicable adult financial literacy coursework. Program topics include budgeting, credit, debt, investment basics, financial goal-setting, and more.
"A typical adult's financial worries can be resolved by answering some simple questions," states the NFEC's Cecile Abad. "The adult financial literacy course answers many of the questions people have and helps participants feel an instant boost in their financial confidence. Longer-lasting results of an adult financial literacy program develop over time, as the recipients translate the lessons they learned into their daily lives."
The Salvation Army DFW Metroplex Command serves five counties in Texas including: Dallas, Denton, Tarrant, Collin and Ellis. Their mission is the care for the poor, feed the hungry, shelter the homeless, clothe the naked, love the unlovable, and befriend the friendless. The Salvation Army Dallas has four homeless shelters, thirteen community centers, nine mobile feeding kitchens and a variety of programs designed to help those in need.
The National Financial Educators Council provides a variety of youth and adult financial literacy solutions to organizations and individuals around the globe. The NFEC is committed to improving financial capability of individuals while raising awareness for the financial literacy movement. The NFEC's financial education programs are customized to address the specific needs of end users and host organizations.
###