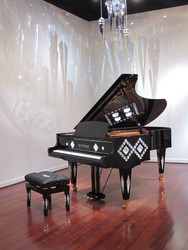 Art case pianos are for people who are passionate about music and art and who want a unique expression of their creative spirit.
Winston Salem, NC (PRWEB) April 14, 2011
Winston-Salem, NC (PRWEB) April 14, 2011 -- In a world of $250,000 Lana Marks handbags, $100-million California luxury homes and a $1.2 billion mega yacht (owned by Russian businessman Roman Abramovich), custom art case pianos endure as rare but reasonably priced objets d'art.
Art case pianos with elaborate cabinet work have been designed for emperors and presidents, for celebrities and seekers of celebrity, for top interior designers in search of dramatic centerpieces for their clients' luxury homes and as points of differentiation for luxury hotels and restaurants. They are for lovers of art and music and those who appreciate uncompromised craftsmanship, whether a grande dame from the piano's Golden Age or an elegant new art case from a high-end European piano maker like Bösendorfer or Fazioli.
"There's a perfect piano design for every setting," says interior designer Leo Dowell. "When I design one-of-a-kind European estates for my clients, I tell them that there are as many ways to design a piano as there are designer handbags or sexy couture shoes -- a design so unforgettable they simply can't live without it. And it's right there in my head."
One of today's best known art case pianos is Steinway's elaborate Alma-Tadema re-creation, sold in 2002 for $675,000 and worth about $2-million today. The piano's classically-themed art case elements include carvings and inlays made from more than 20 species of wood, mother-of-pearl, parchment, metal and oil paint, which took New York interior designer and ébéniste Eric Chapeau about 5,000 hours to complete. The design is patterned after a Steinway decorated in 1887 by Victorian-era artist Sir Lawrence Alma-Tadema for New York philanthropist and art collector Henry G. Marquand. The original, described by Christie's as "the most artistic piano ever produced," sold at auction in 1997 for $1.2 million.
Vienna's Bösendorfer also is known for art case pianos, including an art deco design based on architectural detailing in New York's Chrysler building and Austrian architect Hans Hollein's striking red and black lacquered piano with gold inlays (centerpiece for Orlando's famed Bösendorfer Lounge and Grand Bohemian Hotel). One of today's most elaborate Bösendorfers is the Emperor, a precise duplicate of the piano given by Austria's emperor to Japan's emperor in 1869. This limited edition piano is priced at $1.5-million and awaits a buyer at Classic Pianos in Seattle.
Perhaps more than any other high-end piano maker, Bösendorfer has reached out to artists and architects for style ideas (even names like Porsche and Audi) and has developed a Piano Design Handbook to guide would-be art case designers in their quests for variations on the traditional piano shape and surface.
"I had always wanted to design an art case," glass artist Jon Kuhn says. He got serious after seeing several Steinway art case pianos at North Carolina's High Point Furniture Market in 2003. "I was totally smitten," he acknowledges, "and knew at that moment that I had to do one myself. And when I finally connected with Bösendorfer, I knew I'd found the right match."
"The Kuhn-Bösendorfer combines a performance-grade instrument with glass art of a quality that can't fully be appreciated until you see how it reflects the light," says Raleigh, North Carolina piano retailer Richard Ruggero, who worked with the artist to develop his first Kuhn-Bösendorfer, a 7'4" Model 225. "I've been a piano technician and tuner with very high standards for a good number of years, and the Kuhn-Bösendorfer far exceeded even my expectations."
Kuhn's art case pianos range from $700,000 to over $2-million, depending on design, and are available from 5'8" (slightly larger than a baby grand piano) to the legendary Imperial concert grand, which would look simply smashing on Roman Abramovich's new Eclipse motor yacht.
"The piano is more than a musical instrument. It is a symbol of sophistication, spiritual and financial wealth," says Tibor Szabo, whose San Francisco firm restores and sells European art case pianos. Of course, wealth can be interpreted in different ways when contemplating purchase of an art case: in the sinuous, sensual piano shape, in no-holds-barred craftsmanship that speaks first to quality rather than price, or the exquisite pleasure of tone and touch. During a time when people expect a lasting experience from their luxury purchases instead of acquiring more and more "stuff," an art case piano not only is a sublime expression of the musical and visual arts but may be a rewarding personal investment as well, a piece of "living furniture" to be experienced to its fullest (given proper care) even four or five generations from now.
Like A-list collector cars, only museum quality art case pianos in good playing condition and with cabinets designed by acclaimed artists like Kuhn or Alma-Tadema, can be expected to appreciate more than other high end pianos (which themselves typically beat inflation after about five years), because, as Chapeau observes, very few art cases come on the market these days and demand remains strong. Of course, pricing a work of art at any point in time merely provides an educated opinion of market value, which may not adequately reflect the buyer's ultimate appreciation of its worth.
To paraphrase Russian-American Mathematician Ivan Nikolayevitsh Penin, "For every beauty there is an eye, for every love there is a heart." Especially, it seems, when it comes to art case pianos.
Writer Brian Faulkner loves pianos, advises business clients about communicating strategic advantage and is an Emmy award winning Public Television scriptwriter and narrator.
# # #