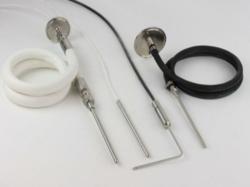 Burns sensors provide a variety of measurement solutions for demanding autoclave sterilization applications.
Minnetonka, MN (PRWEB) September 16, 2011
Burns Engineering is pleased to introduce the Series S: Autoclave Temperature Sensor family. These sensors are designed to provide a complete temperature measurement solution and maximum performance for today's demanding autoclave sterilization applications in Pharma/Biotech, Sanitary and Industrial Process industries. The family includes chamber and load probes, light/heavy/xtreme duty designs as well as standard or precision accuracy.
Designs include single and dual elements, 3 or 4 wire configurations, sheath diameters of 0.125" to 0.375" and operating range of -50°C to 200°C. Chamber wall feed-through options including sanitary caps and multi-probe ports are available as well as straight or bent sheath designs. Burns also offers customization to meet your temperature measurement needs. View available designs and complete specifications.
About Burns Engineering:
Since 1960, Burns Engineering has been an industry leader in the design and manufacture of temperature measurement products for the Process, OEM and Metrology industries. Burns designs custom temperature measurement solutions to meet safety, process efficiency and product quality needs. Products include RTDs, Secondary SPRTs, Thermocouples, Thermowells, Transmitters and NVLAP Accredited Calibrations (Lab Code 200706-0). To learn more visit the Burns Engineering website or contact us directly via email at info(at)burnsengineering(dot)com or by phone at 800-328-3871.
###