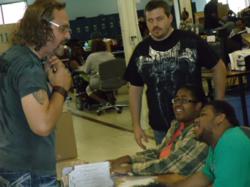 We love our new friends... and what an impressive program
Las Vegas, Nevada (PRWEB) July 28, 2011
Global Maximus Records, LLC announced today that rising Country Music performers 'BadHorse" made a special surprise visit to the Citizens Development Center located in Dallas, Texas. The center operates a program that provides a very successful community career development program for very special people.
"I had a blast with the folks at the Citizen Development Center in Dallas and I am so glad we were asked to stop in and visit the facility. We love our new friends… and what an impressive program and I was equally impressed by the sponsor's efforts." States Randall James, Executive Producer and President of GMR.
The programs facilities provide for fulfillment work by contract for Verizon and other corporate supporters that render work to the employees at the center. The program Director Jeff Miracle, who recently took the Director's role at the center, was a gentleman and a scholar during the visit.
The Director very professionally hosted the group tour. Mr. Miracle explained the purpose of the program to the group as everyone joined in posing for tons of pictures and providing tons more hugs than could be captured on film.
GMR has committed VIP tickets to the upcoming 'BadHorse' performance in the Dallas area to all the employees and staff of the Citizens Development Center as a tribute to great 'BadHorse' fans and in appreciation for their hard work in the Dallas community.
GMR is honored to do its part in supporting the on-going community works of its artists. 'BadHorse' will be making stops at the center every chance they have to visit their new friends. GMR will make sure they get there.
For More information about Global Maximus Records
http://www.MUSICatGMR.com
For More information about 'BadHorse'
http://www.badhorsemusic.com
For More information about the Citizens Development Center http://www.citizensdevelopmentcenter.org
The rehabilitative benefits and hard earned income to the employees is more than special as the employees enjoy the direction of some of the best professionals in their fields. This was evident during the group's tour of the facility with co-host and video director Patrick Bricker who educated the group to the program during a StarFest Direct production facility tour.
"I appreciated all the people who greeted us so warmly and it was great to get see them excited from our visit. It was just cool to hang out with our new friends there." Stated Adam Grant, lead singer for 'BadHorse' "Man, I never felt more thankful this is a blessing and I love the program and I will continue to stop in and see these guys as often as possible." Adds Robert E of 'BadHorse'
###