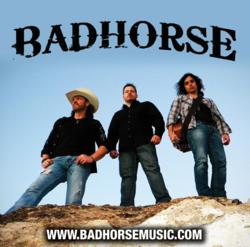 The fan support during the entire tour was wonderful
Atlanta, GA (PRWEB) October 10, 2011
Global Maximus Records, a leading Independent music label announced today that country music's "BadHorse" has completed a tour of several western states and Texas. The tour included appearing "Live" at select television and radio stations. The group started the tour off entertaining fans "Live" from the House of Blues in Las Vegas with the show described as a major success by the fans and club management.
The group toured various venues, television and radio stations throughout Nevada, California, Arizona and Texas supporting the groups latest hit single, "It's All Good." The single is currently ranked in the Top 40's on Music Row and New Music Weekly Charts as well as climbing nicely on Billboard's Country Charts.
The fans obviously enjoyed the show they each experienced with the tour causing the groups website and social network fan traffic to increase significantly. The label in large part feels that the new song is such a feel good song that it has unifying qualities to its lyrics.
"The song is sticky and fun to sing along to number one. It's one of our favored ones here at GMR when we are preparing for anything that the group is involved in. It's simply a fun song, Its a modern way of stating, no big deal, can't we all get along, don't worry about it, it's time to let loose," states Randall James, President of GMR
The group has also had the song "It's All Good" used by multiple sports teams across the country including Fresno State University for this past weekend's game promotions for local television. It has been reported that several other college's also used the song to introduce programming to a high fan appreciation. The group is pleased with the use of the song by the universities and the feel good moment the song may render to the listener.
"The fan support during the entire tour was simply wonderful and the support of professionals across sports entertainment and music in general, has been without doubt a blessing on "Its All Good." It is a real tribute to the guys who contributed to the song, its a testimony to a lot of good musical effort and we are very pleased to see it appreciated by the fans." adds Robert E, of 'BadHorse'
The western states tour ended in Fresno, California after returning from Houston, Texas. The group will rest until appearing for several upcoming performances. The group has plans to play select dates leading up to a tour of Europe in the spring of 2012. The single can be found on most any music store, iTunes and Amazon Music or the groups website http://www.BadHorseMusic.com
###