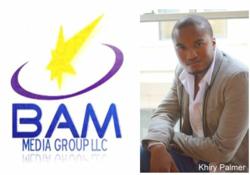 There is no way I could do it all.
New York, NY (PRWEB) November 06, 2011
BAM Media Group LLC has been New York City's fastest growing production company. Own/Founded by Khiry Palmer, BAM Media Group will feature shows in 2012 that will showcase actors from all ethnicities and will give them a platform to display their talents. BAM Media Group's primary focus has been on Theatrical Productions. Next year, there will be minimal theatrical productions and more film.
"We have to stay true to our fan base, The success of BAM Media Group has been through our stage productions and we will of course have plenty for next year. Just look out for our films and screenings too."said BAM Media Group's owner Khiry Palmer. "We will definitely be doing live performances one to two times per month." "These performances will range from comedy, all the way down to poetry sets." "We will not only focus on producing original works, but we are also set to debut William Shakespeare's Antony and Cleopatra in Brooklyn, NY in Mid-February 2012." Palmer continued.
We also asked Mr. Palmer what other changes we will see with BAM Media Group. " We will be reinventing our website, allowing our supporter to sync directly to facebook, and will also be reinventing our BAM logo."
When asked about future films produced under BAM Media Group, Mr. Palmer said, " We are set to produce quite a few films, not all full length films but mostly shorts. One that will debut pretty soon is, The Khiry Palmer Show, and that will debut December 1, 2011 at 5pm Eastern Time. It's a show that will provide young people with tips on how to overcome adversities. I'll interview local young business owners and also a couple of local celebrities, it's going to be a lot of fun." " We will also adapt a play we debuted in May into a film. The play is called When the Clouds Cover the Sun and it's written by Michael Joseph Kospiah and it will be made into a feature film." "Our short film is top secret." Palmer concluded.
One may think that Mr. Palmer does everything by himself, but that's not what he says. "There is no way I could do it all. I have excellent people apart of my team and life. Having a very positive support system from my mother and father is what keeps me going. My partner Khalimah Gaston who is a phenomenal actress, has also been helping me, and took leadership over producing some of our staged events. She and I work strategically to make sure everything is in order for our actors and shows."
Bammers will be able to see the changes to BAM Media Group website and Facebook page January 2012.
The New season for BAM Media Group will also be posted on the new year!
BAM Media Group LLC is headquartered in New York, NY.
###