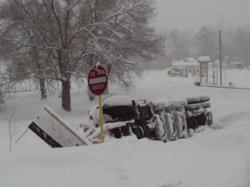 "While most of metro D.C. was at a standstill due to the record snowstorm, BEI moved our equipment across town in 25 inches of snow and we were up and running and open to see patients on Monday morning." Ann Magri, COO at Capital Area Pediatrics
Oakton, VA (PRWEB) October 18, 2011
In December 2009 Capital Area Pediatrics, with the assistance of BEI, their IT provider, embarked on a 16-month plan to dramatically improve the performance of their Healthcare IT systems. Their goals were improved patient care, increased productivity and reliability, more efficient billing and to and to meet the meaningful use criteria outlined by the federal government.
The first step in this plan was to move Capital Area Pediatrics network infrastructure out of their office and into a datacenter, resulting in improved reliability and network uptime. This was accompanied by virtualizing a number of servers to minimize the number of physical devices, resulting in lower overhead at the data center. Ann Magri, Chief Operating Office at Capital Area Pediatrics, commented on the move, "We worked with BEI to plan the datacenter move and it ended up happening during a huge December weekend snow storm. BEI and Capital Area Pediatrics did a great deal of pre-planning and preparation, and therefore, the move went very smoothly. While most of metro D.C. was at a standstill due to the record snowstorm, BEI moved our equipment across town in 25 inches of snow and we were up and running and open to see patients on Monday morning."
Mike Jennings, President of BEI added, "Moving all of Capital Area Pediatrics equipment out of their office and into a datacenter meant that they didn't have to worry about power outages impacting their entire business. When their network equipment was located in their administrative office a power or Internet outage at that office meant that all their offices were down. Now, if there is a problem at one of the offices it only impacts that location. Moving to the data center did require a better solution for remote access, because all of their staff were now accessing their systems remotely. We installed Microsoft's Remote Desktop Services, which offered improved performance at lower cost than their previous solution."
The second phase of the plan was the implementation of an Electronic Health Records system. This started with the selection process in early 2010, and culminated with the office-by-office rollout starting in October 2010 and completing in April 2011. GE Centricity was the Electronic Health Record solution selected by a committee of Capital Area Pediatrics staff. The design included virtualization of several of the servers and deployment of a state-of-the art image-based business continuity system from BEI. The implementation also included a full test environment, so that changes and updates can be tested in advance to ensure that they will not negatively impact patient care or day-to-day operations.
The implementation of Electronic Health Records was a large project, involving 7 offices, 38 physicians, 5 nurse practitioners and 150 support staff. The process included high-speed scanning of existing records, staff training, configuration of Fujitsu Tablet Computers and installation of high speed wireless in each office. Ms. Magri noted, "BEI did a great job of preparing us as each office went online. They were available both onsite and remotely for issues and always responded quickly and got our staff back to seeing patients. One of the challenges in a pediatric practice is long hours, including weekends. BEI is always there when we need them!" She continued, "We are continuing to scan in old records and that will go on for the next few years – so the process of converting to an EHR really is longer than the 16-month plan indicates."
BEI is a privately owned business that has been providing IT support services to organizations of all sizes throughout the Washington DC metro area since 1987. Today BEI provides network design, installation, support, maintenance and procurement services to hundreds of clients in the region and has become the area's premier provider of healthcare IT consulting and services. They are a Microsoft Partner with Gold Competencies in Server Platform and Volume Licensing. BEI is working with the Virginia Regional Extension Center (VHIT) to provide Meaningful Use consulting to practices in Northern Virginia. BEI is affiliated with the Montgomery County Medical Society, the Arlington County Medical Society, the Northern Virginia Practice Management Association, the Healthcare Information and Management Systems Society and the Microsoft Health Users Group.
Capital Area Pediatrics, Inc. (CAP) is proud to be your neighborhood pediatrician. They operate from six practices conveniently located throughout Northern Virginia. Their services include a comprehensive set of pediatric services including extensive weekend and evening hours, Sick and well waiting rooms, same-day sick visits, developmental screening and follow-up, physicians with special expertise in areas like ADHD, developmental disabilities, adoption, obesity, asthma and allergies.
###