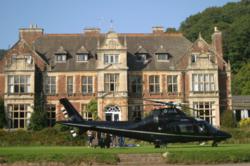 Voted The Uk's No.1 Boot Camp By The Sunday Times
London (PRWEB UK) 27 June 2011
Forget extreme weight loss boot camp, FitFarms is the ideal fitness retreat of choice for women and from August men from across the UK and beyond who seek a healthier and fitter lifestyle that is both sustainable and achievable all on home soil and in a fun environment.
In both Exmoor and the Peak District women (male only in Peak District) can kick start a healthy new lifestyle led by a team of health experts and weight loss retreat professionals who together create exercises, nutritional guidance and workshops all designed to achieve weight loss and an overall healthier lifestyle. The holidays ensure a continued pattern of fitness with a unique post course programme FitFarms@Home and this support is extended to 3 months to ensure the new results are maintained.
Research carried out on the UK fitness boot camp guests reveal some astounding results that should help in assisting new clients to get on with a life changing fitness retreat, these include (losing body fat and not muscle)
Many visitors to a FitFarm have noted a complete life changing experience which has not only improved health for the long-term but has helped elevate their confidence and wellbeing in all things work and play. The weight loss camp FitFarms is truly life changing and that is why it is so popular with people of all shapes and sizes.
FitFarms combines weight loss and the toning of the body via a controlled environment over a week. Following an initial one to one consultation with a weight loss camp physiotherapist and personal trainer you are then welcomed to a variety of exercises designed to suit your level of fitness. Days start with an intense exercise and finish with fun activities including Salsa and Line Dancing and Belly Dancing for women and less intense weights based activities for men along with mind games. There are only 20 women or men per course who are exposed to 15 health professionals throughout the week. To maximise the results FitFarms use their own intensity level scale which is based on heart beats per minute (HRS – Heart Rate Scale). The HRS means you are not competing with others which ultimately allows you to feel comfortable with yourself and the surroundings when exercising.
The problem with most low calorie UK fitness boot camp diets is that the results tend to be short-term, with many people seeing their weight return to its pre-diet level or even increase when they return to their old dietary habits. This causes both physical and emotional stress which can lead to a cycle of negative behaviour involving feelings of deprivation, guilt and failure. The focus is on having a more positive relationship with food and inspiring permanent change. Providing the right nutrients at the right time ensures that appetite and cravings stay under control and crucially promotes portion size re-training. The intake of carbs, protein and healthy fats are also carefully balanced to encourage fat burning while building muscle.
Three key areas are covered in the workshops; Nutrition, Exercise and Behaviour Change. Exercise workshops run throughout the week and progress with varied subjects allowing you to design your own exercise programme using proven personal training techniques. You will work with the trainers on a one to one basis to devise your programme for ongoing post course use.
Ultimately you are giving up a week to lose weight and improve your health and with FitFarms you couldn't be in better hands.
In addition to further ensure you stick to your goals everyone is given a dedicated client password allowing use of a forum with access to a weight loss camp life coach. All in all the tools are all there to go over and above the actual initial exercise and ensure an ongoing level of fitness and adequate and appropriate nutrition.
FitFarms dates run at both locations monthly with prices starting from £1495.00 for a single and £1095.00 for a shared room.
# # #