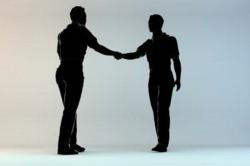 "The ability to achieve a high level of success is the result of having a tenacious pro who's dedicated to securing appointments."
Adam Williamson, Principal, Tunnell-Spangler-Walsh & Associates
Encino, CA (PRWEB) July 14, 2011
The Marshall Face2Face system offers a business development outsource solution for companies who need to get in the door and meet with their dream clients. Recently they have received high praise from several businesses who have partnered with Marshall Face2Face to build their client roster and get introduced to their target clients.
It's harder than ever to get past gatekeepers and speak to those in charge. In today's economy, many businesses lack the resources to hire a full time business development department. When an existing client base is exhausted, companies are often stuck with the dilemma of how to find new leads.
While there are existing lead appointment setting firms, many of today's appointment setters cannot ultimately succeed at finding real decision makers. Marshall Face2Face has the ability to acquire meetings with level C executives – those who can ultimately make the major decisions. Nick Brereton, CEO with Brereton Architects says it best, "Marshall has a way of going right for the top. And actually getting through."
Marshall's firm boasts such a high success rate due to the emphasis on face to face appointments. Thea Von Loggerenberg from PMSM Architects recently said, "Marshall was able to set up appointments with people whom I'd called at least ten times. I don't know what magic they use, but they've developed an effective system for getting past the dead-end."
In contrast to existing appointment setting firms, Marshall's company provides a more individualized approach. Marshall Face2Face consultants take the time and customize their approach to meet the needs of each client. Consultants can be hired for any length of time, allowing companies to benefit from business development services without going over budget. President, Domenic DiGiorgio, of DiGiorgio Associates commented, "We've often enlisted Marshall's service on an as-needed basis, to augment our aggressive internal effort. It's an invaluable advantage to have someone who can quickly develop a customized prospect database, and really stay on the case."
In the past companies have resorted to using traditional appointment setting firms who relied on call centers to set up appointments with just about anyone. On the other hand, Marshall Face2Face is earning rave reviews based on the consultants' uncanny ability to secure quality connections through an individualized highly professional approach. With sixteen years experience, Marshall Face2Face has a long list of satisfied clients.
Marshall Face2Face is an affordable outsource partner — for lead generation and appointment securement — with the power to revolutionize an enterprise's business development strategy. Visit us online to learn more about our field-proven system, and about how we can tailor a program to meet your needs.
###